The Sophomore Class is disappointed to announce softball and cross country t-shirts have been delayed due to difficulty in obtaining materials. We had hoped to have shirts to you before softball playoffs and cross country regionals but it will not be possible. We have been advised that shirts could possibly arrive next week. We apologize for the regrettable delay and would like to thank you for your patience and continued support of the sophomore class.

We want your input and involvement! Please take a moment to complete our Elementary Parent Involvement survey linked below. Thank you for your time!
https://forms.gle/VaipjdyJvtToe5dV8

Tomorrow morning is "See you at the Pole". It will start at 7:30am at the Elementary & High School flagpoles. Students & parents are welcome to attend. Cherokee FCA will be going to Helena tomorrow evening to listen to Wayne Anderson speak at the Timberlake Football Field. The bus will leave at 6:15pm & all 7th - 12th grade students that wish to attend must sign up in the High School office by noon on Wednesday. Students must be in good standing with the school in order to attend.

Cherokee STUCO will be hosting the CHS Blood Drive on Tuesday, September 28th from 11 am to 3 pm in the Auditorium Foyer. Please come donate if you have a chance and also help remind those students who are 16+. You can help save lives with your donation, plus get a great shirt too! You can set up your appointment time at CHS by using the link below:
https://obi.org/

Weekly Activities for September 20 - 25!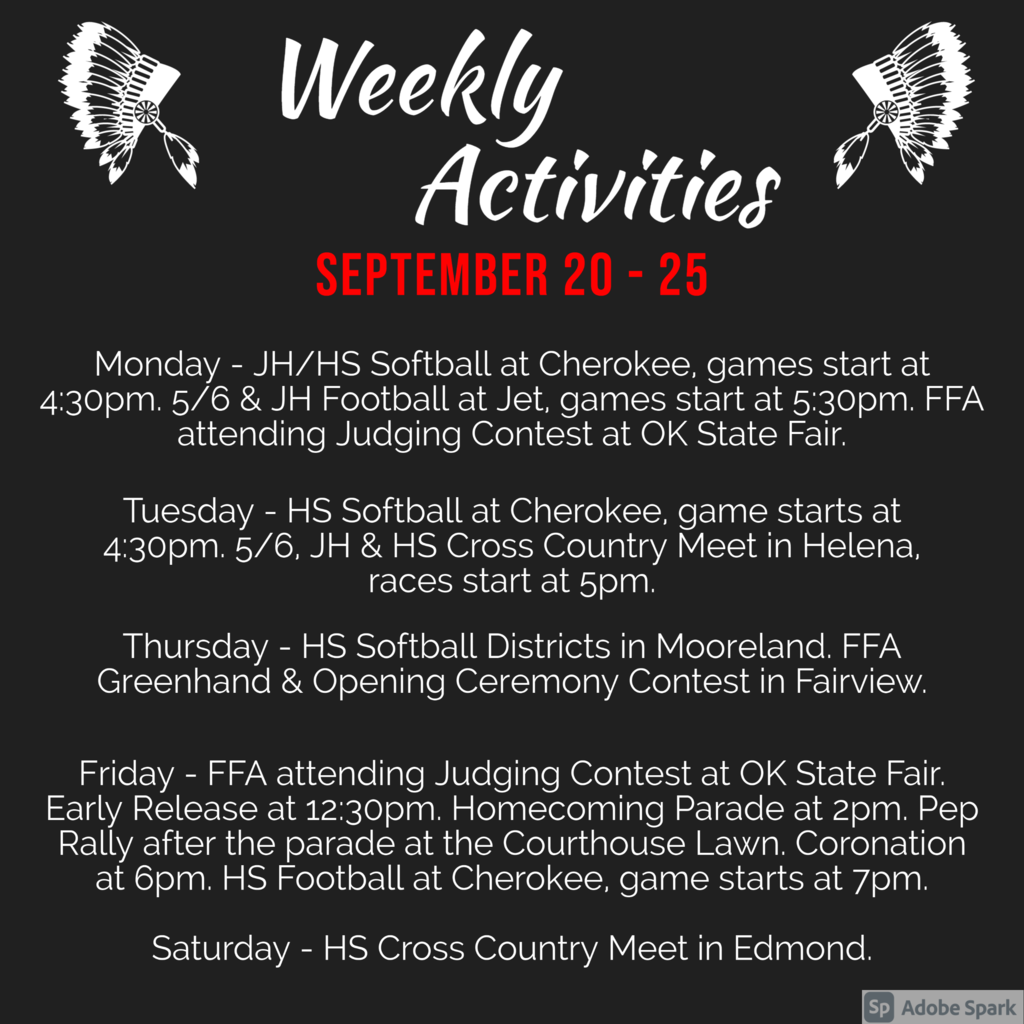 Next week is Homecoming Week! See the attached list of Spirit Days. Just a reminder school will release at 12:30pm on Friday, September 24!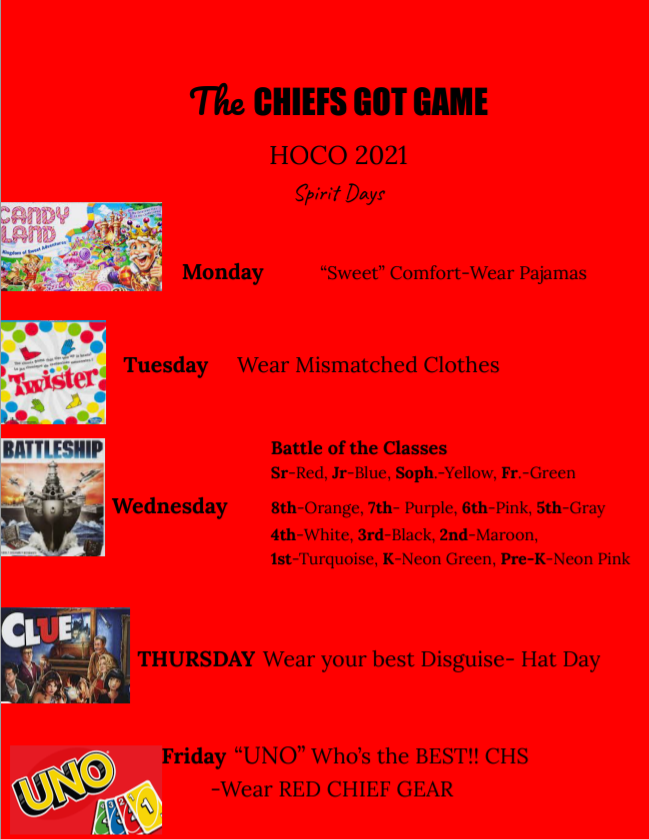 Good Morning Chief Families. Please see the attached letter from Superintendent Schanbacher.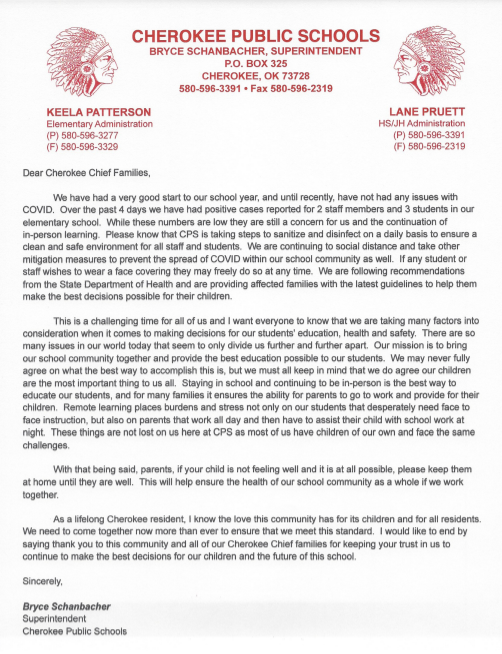 Updated Weekly Announcements!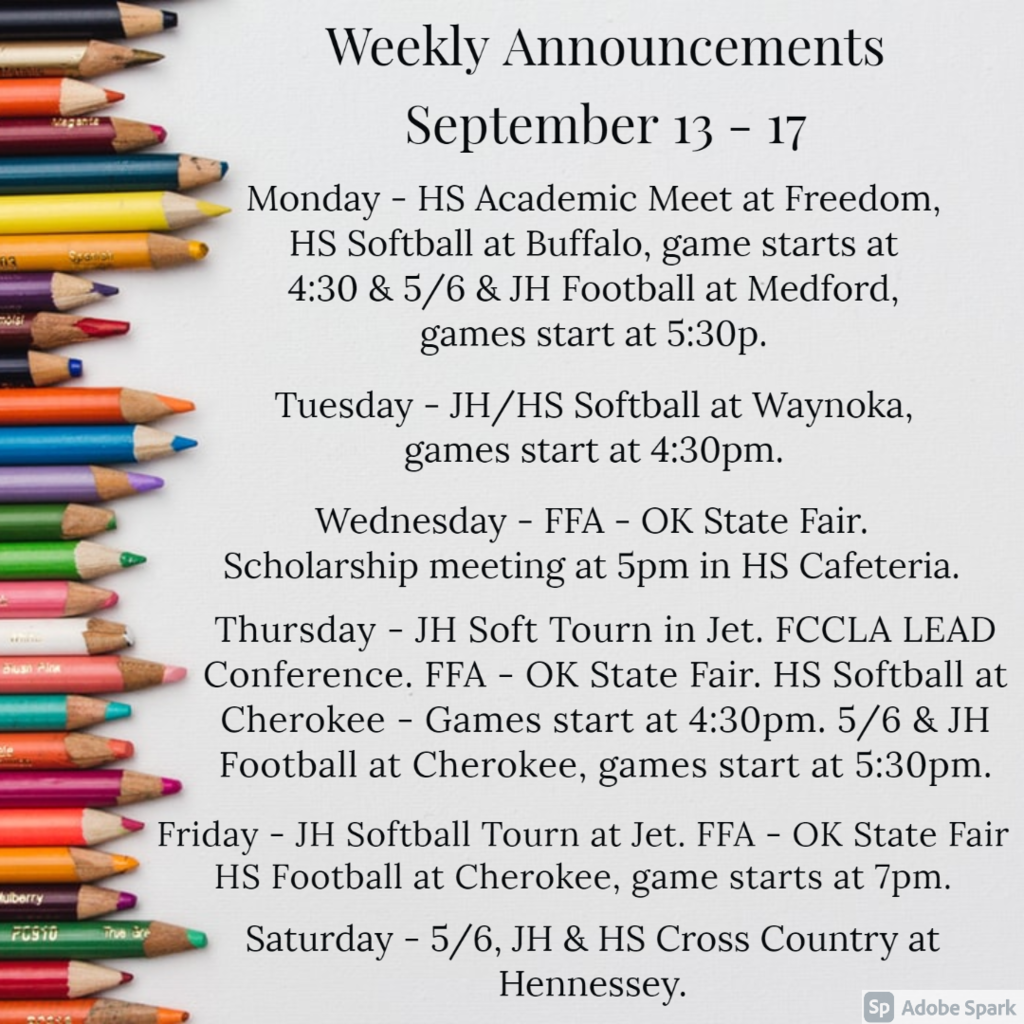 Fall Sports Pictures have been postponed to a later date!!



Weekly Announcements are attached!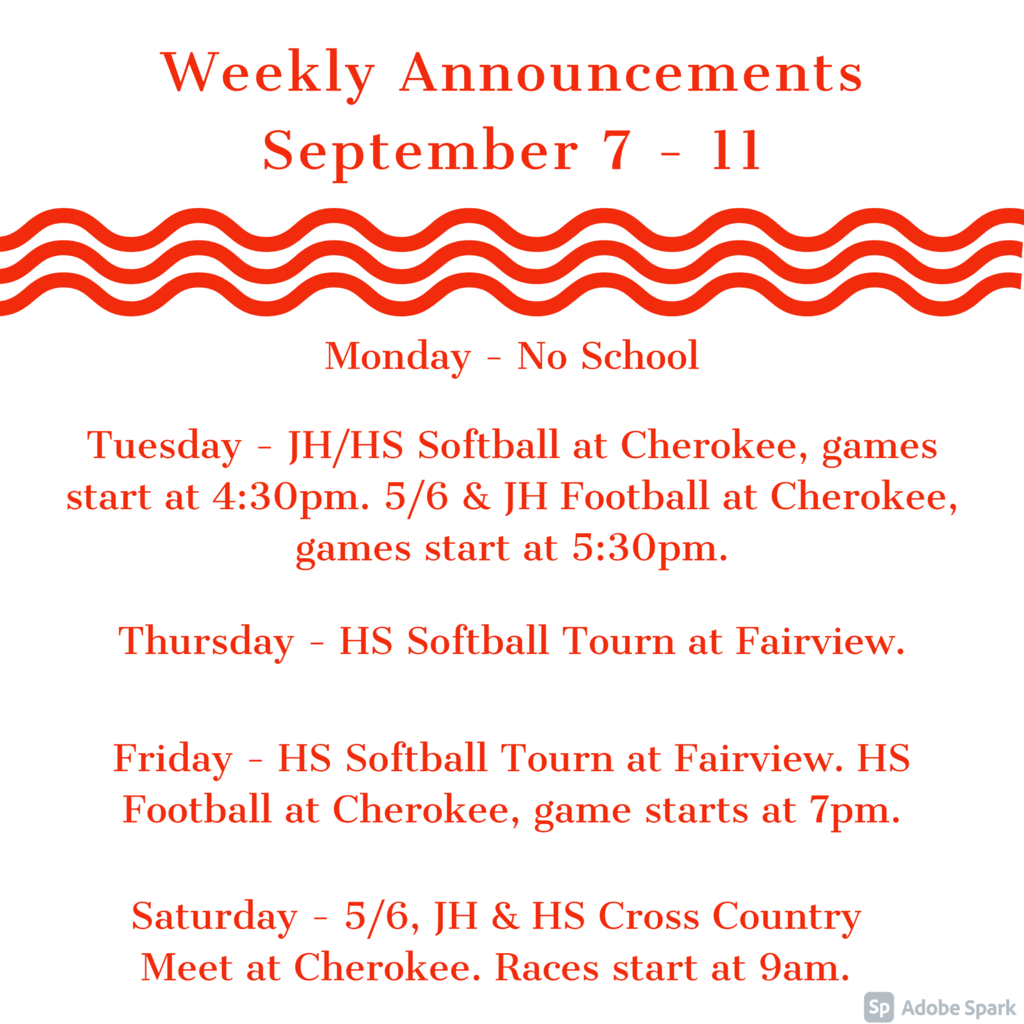 Just a reminder - No School on Monday!! Enjoy your long weekend.

September Menus are attached.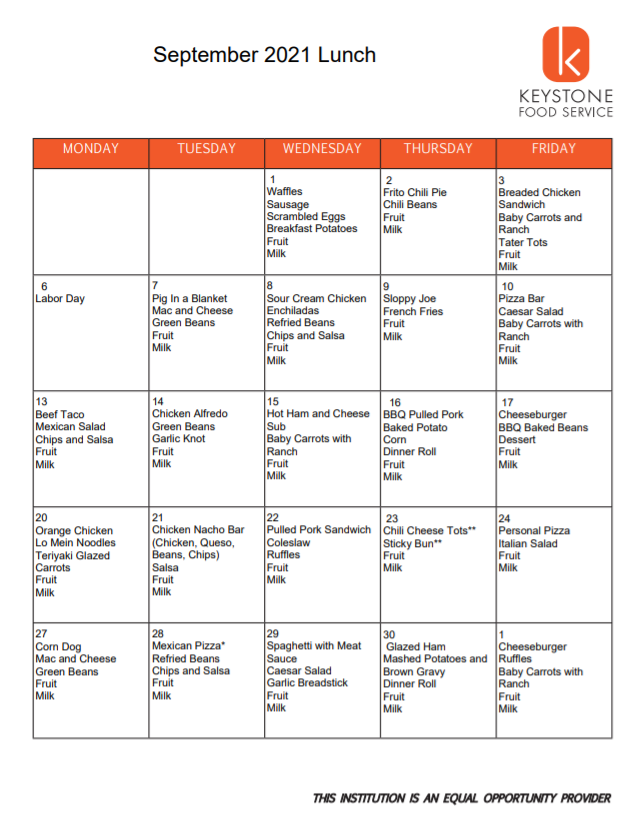 Weekly Activities are attached!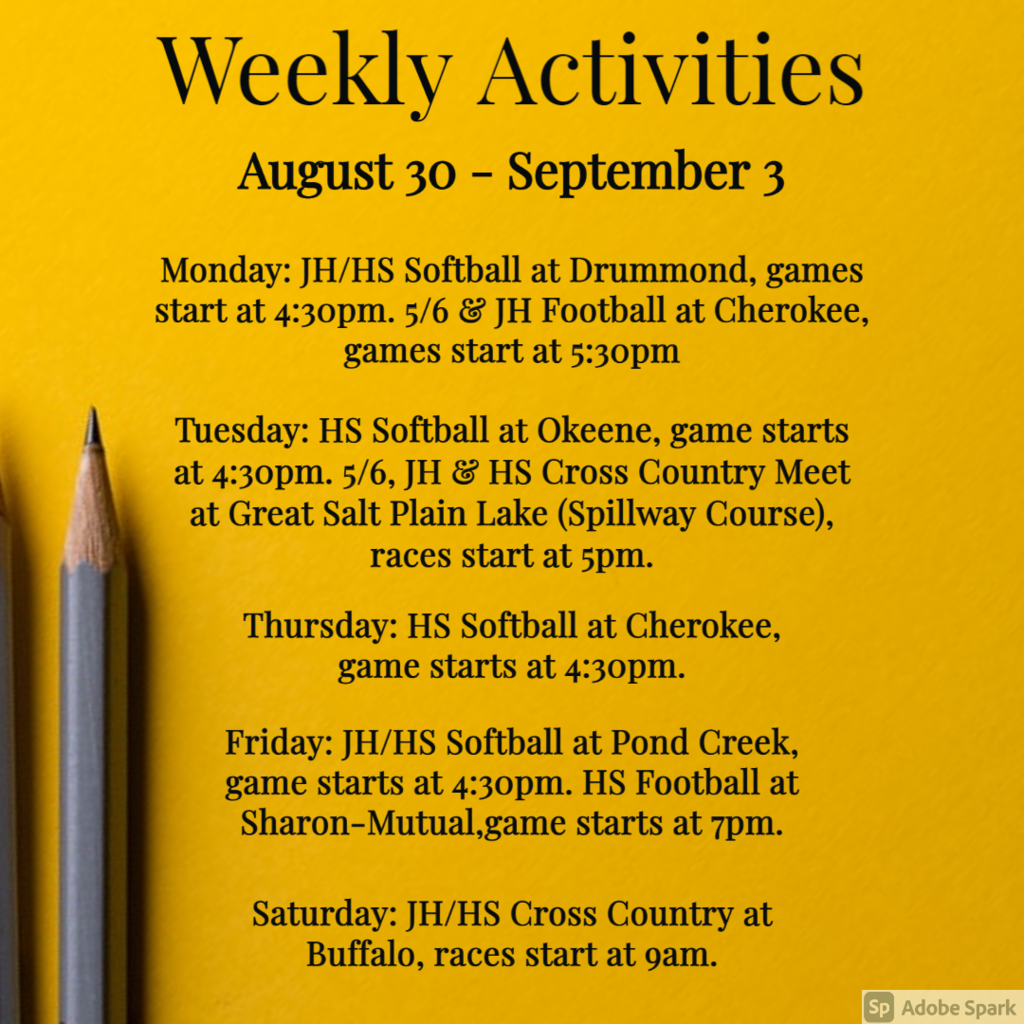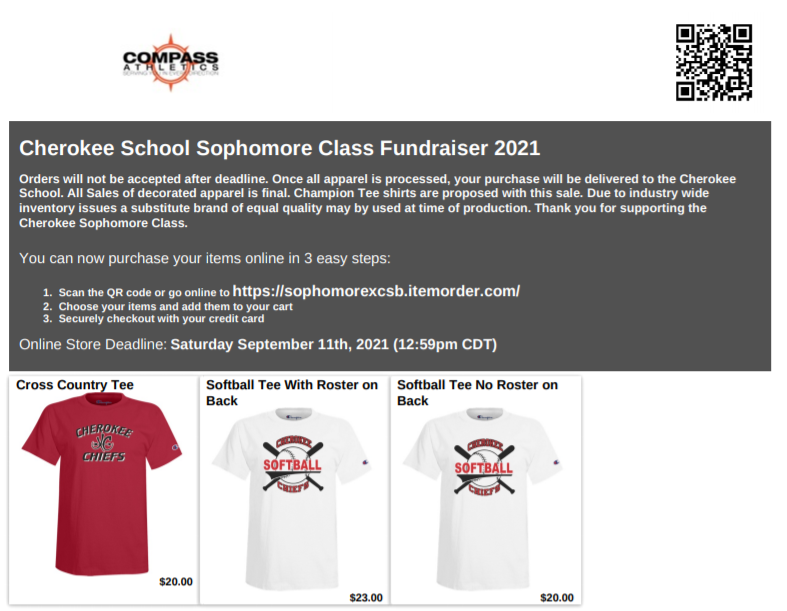 Today's Activities: No School. HS Football at Laverne, game starts at 7pm. Admission: $5.00 Adults & $3.00 Students. The game will be lived streamed through
www.citylinktv.com/channel/laverne/

Today's Activities: HS Softball at Cherokee, games start at 4:30pm. Join Chiefs Theatre for a special VIDEO PRESENTATION at 6:30pm in the HS Auditorium celebrating the 2020 OSSAA Class 3A State Championship Production! Entry by donation! There will also be a dessert silent auction.

Reminder: No school on Friday, August 27!!