Basketball Update! On Friday, December 3 the Chiefs will play at 6:30pm and the Lady Chiefs game will follow. Games will be played in Medford.

The 1st - 5th Grade Christmas Program will be on December 16 at 6:30pm in the HS Auditorium!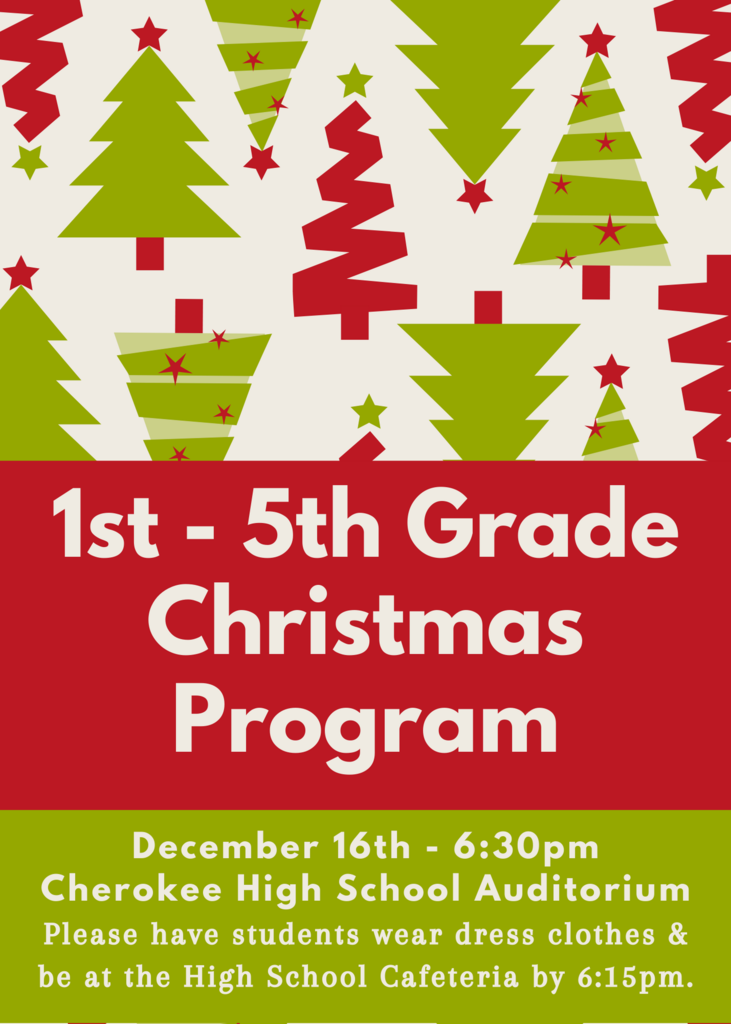 On Friday Around the World Yoyo Entertainment will present the "School is Cool" assembly. If you would like for your student to purchase a Yoyo please print and return the attached order form.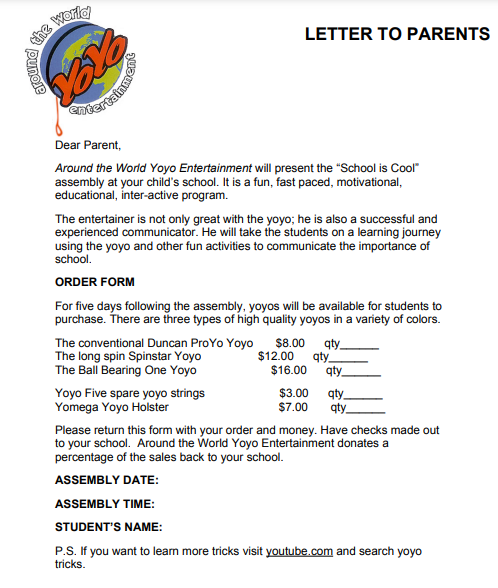 Next week is the NWOSU Basketball Tournament in Alva. The brackets are attached and can also be found on our website.
https://5il.co/12dmk
.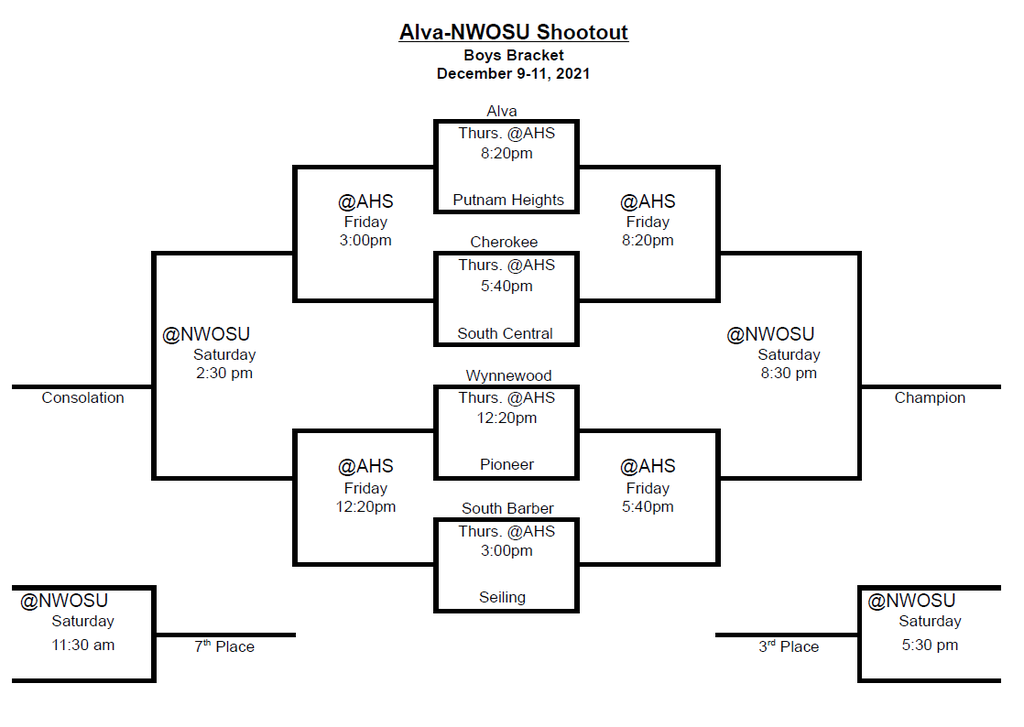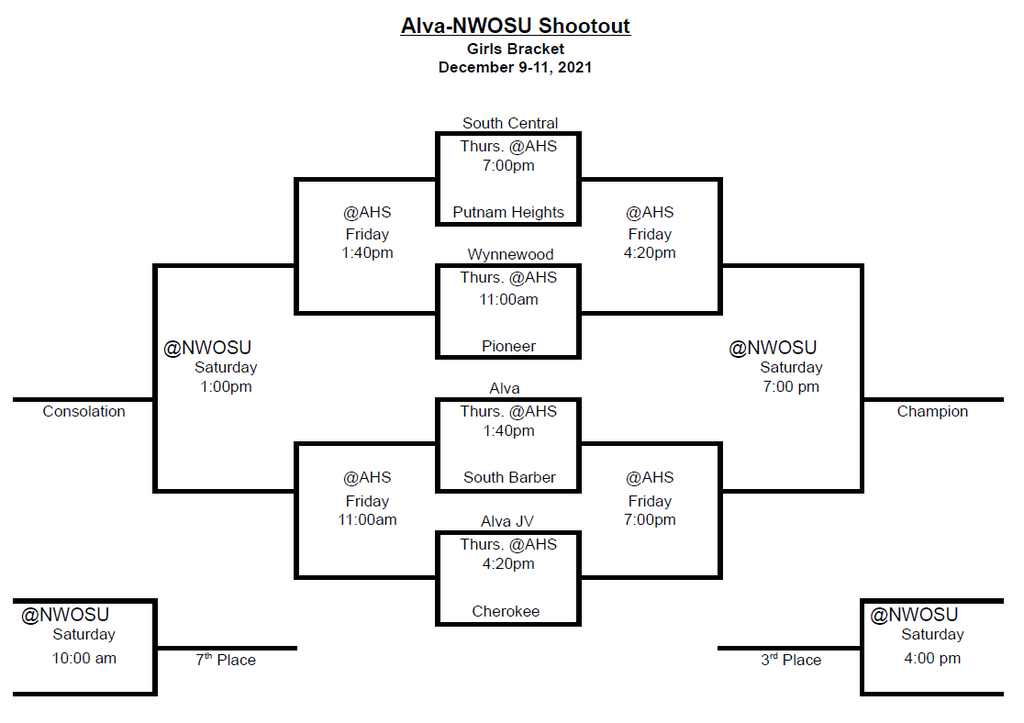 Tonights JH & HS Basketball Games will be played in Lamont. JH games start at 4:00pm and HS starts at 6:30pm. Games will be streamed to:
https://dclaeagles.tv/

The 5/6 Grade Academic team will arrive in Cherokee around 4:45pm. Students can be picked up in the HS parking lot.

Weekly Activities for November 29 - December 4 are attached.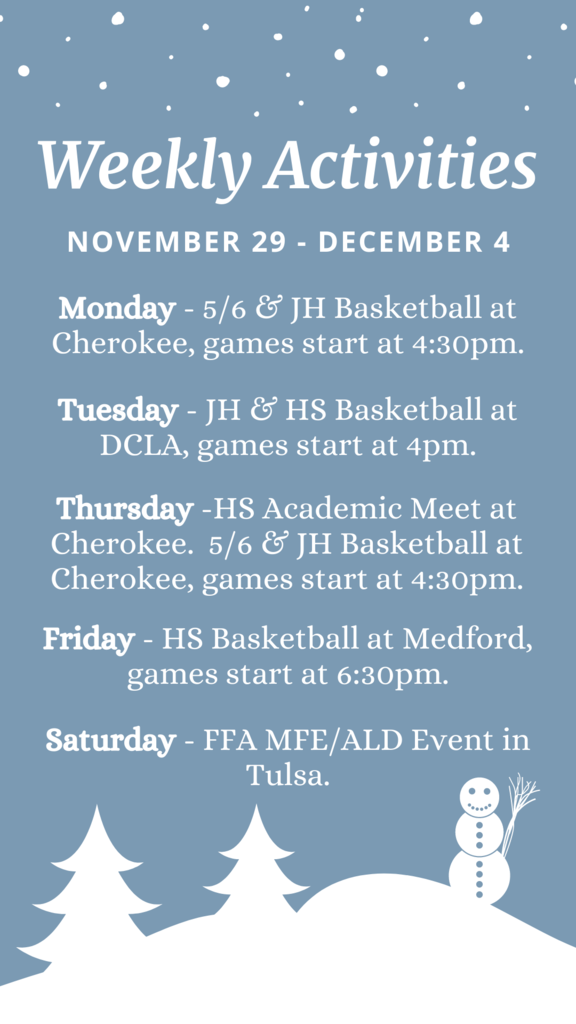 Just a reminder PK-11th Grade will be taking Fall Picture re-takes tomorrow morning!

The Sophomore Class is selling basketball t-shirts. Contact Mrs Lancaster or Mr Lyon for questions. Orders are due tomorrow by 3pm!!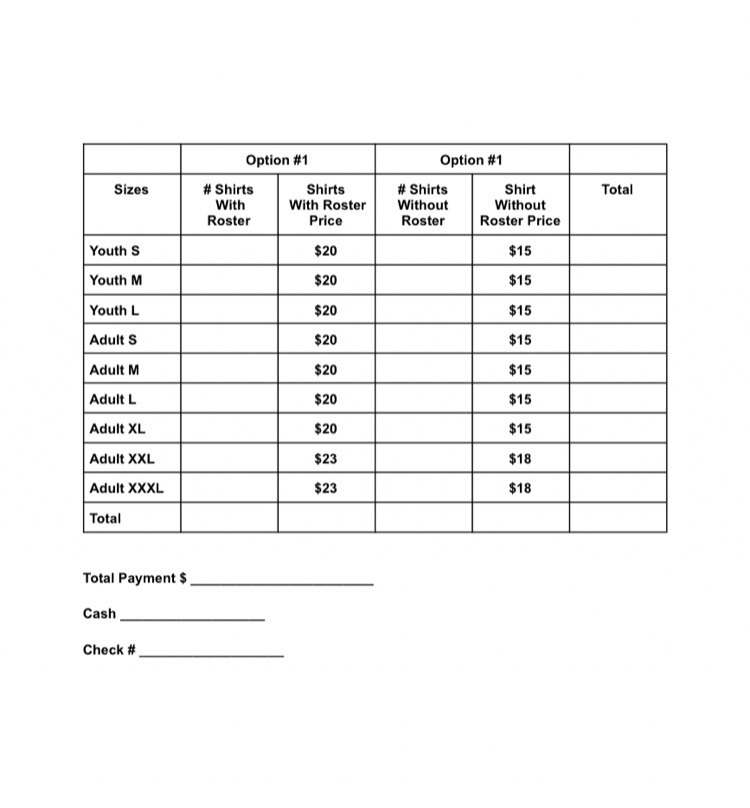 Attached are the updated brackets for the 5/6 Grade Cherokee Basketball Tournament. Please note game times have been changed on the boys bracket. This change allows all teams to have game times closer together. *Cherokee times did not change.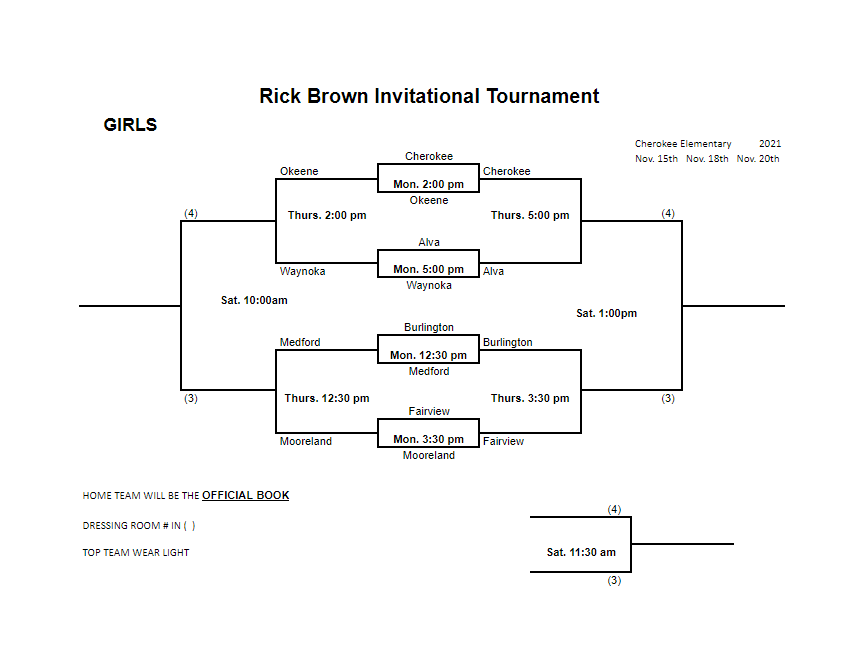 Thanksgiving Break is November 22-26!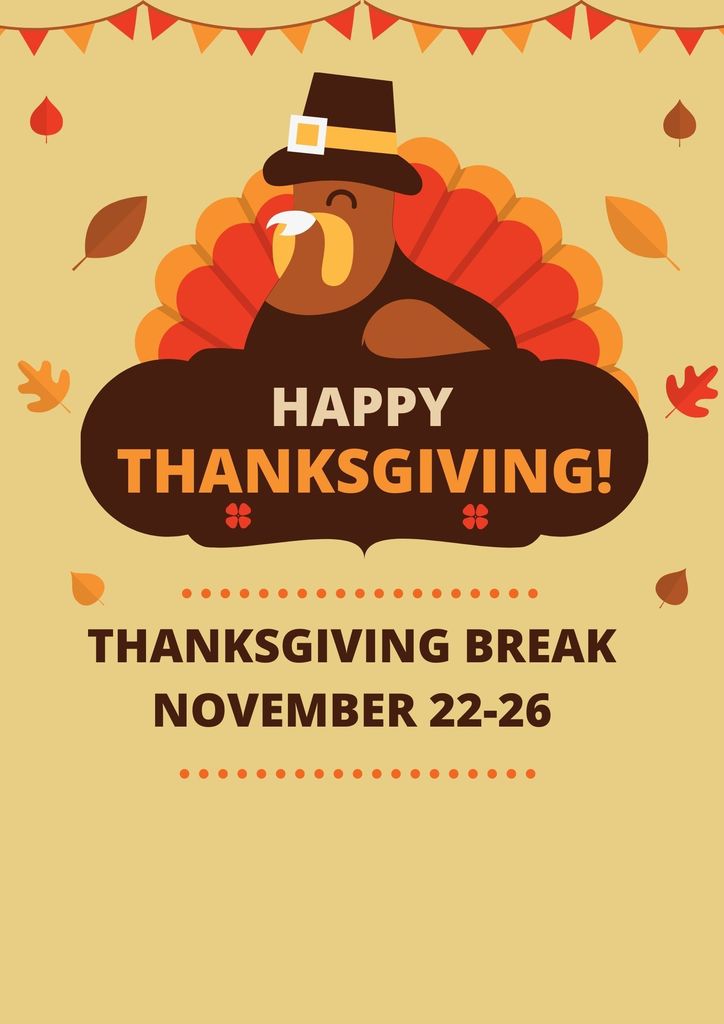 The Sophomore Class is selling basketball t-shirts. Contact Mrs Lancaster or Mr Lyon for questions.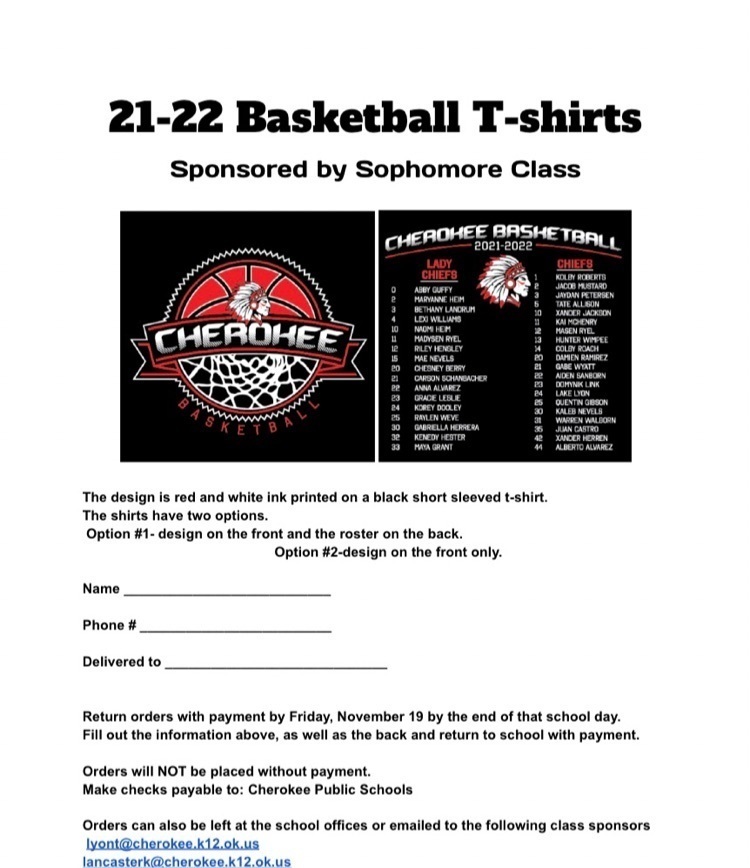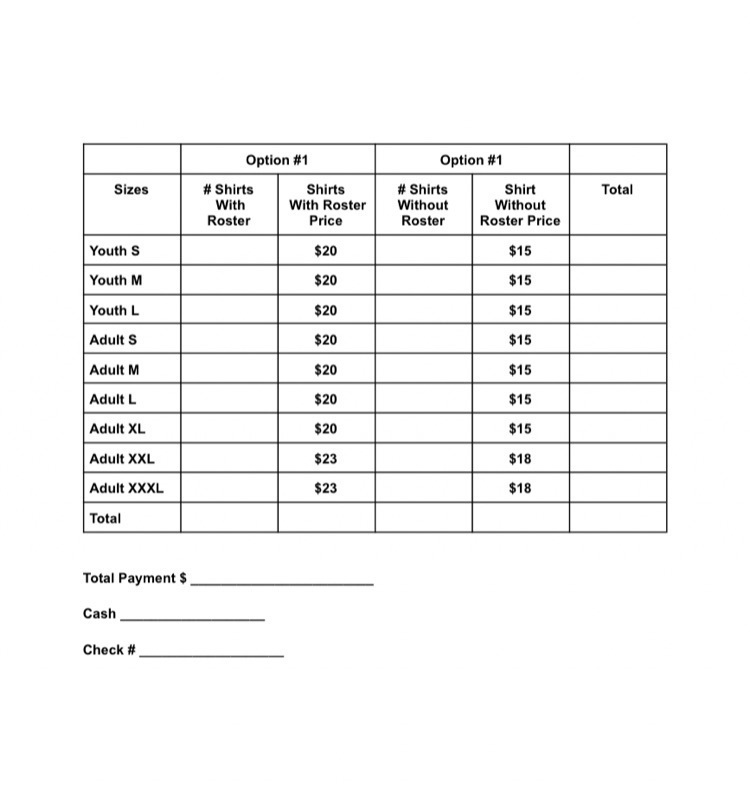 Cherokee 6th graders will attend a Career Fair at NWCT-Alva this Friday. Remind students to WEAR A COAT & COMFORTABLE SHOES. Students will travel from classroom to classroom (Outside too!) to learn about career pathways. THEY WILL EAT LUNCH AT ALVA. Most likely BBQ sandwiches, chips & cookies. The bus will leave @ 8:05am from CHS parking lot. The bus returns to CHS by 2:45pm.

Our Elementary Open House is tomorrow evening! Parents are encouraged to stop by the school and see all the great things students have created!

Weekly Activities for November 15 - 18 are attached!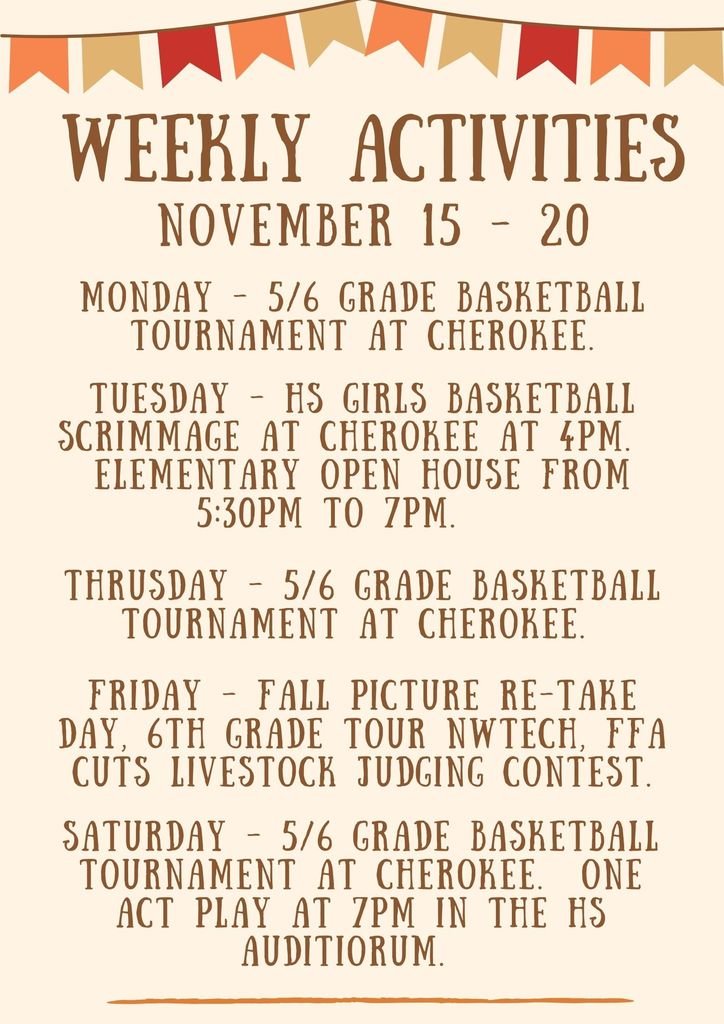 Chief Fans: The OSSAA is encouraging the use of digital ticketing through GoFan. The link for tickets will be on the OSSAA homepage or at
https://gofan.co/app/events/449342?schoolId=OK21024
. Tickets purchased through GoFan will cost $8.35. $7.00 of that is the cost of the ticket & there is a $1.35 service fee that goes to GoFan. For those not comfortable with the digital ticket idea, you will be able to purchase tickets at the gate, but per OSSAA regulations, the cost is $10.00. For more information visit:
https://5il.co/11q27

In appreciation of your service, the OSSAA is allowing Veterans & 1 guest to get in free to 1st round playoff games this Friday. Just show your military ID or your drivers license that shows your military status at the gate. Below is a link to the letter the OSSAA has posted. Thank you for your service!
https://5il.co/11q1y

Cherokee 5/6 Grade Girls & Boys Basketball teams will play in the championship game tomorrow evening at Pond Creek!! The girls will play at 7pm & the boys will play at 8pm.