CPS will be providing lunch and breakfast for all our students if needed. We are providing a google form for you to order meals for your student or students. We ask that you have your order turned in by Thursday at noon for the following week. You will be ordering for a week at a time. This form will place an order for your student or students that will begin on Monday, March 23. We ask that if at all possible you pick the orders up, but if you are unable to do so there is a place on the form to give your address and we will deliver to you.
https://forms.gle/b41ucciAoxZLGktC6
or you may call 580-596-3391 option #5

CPS COVID19 Update #5 After meetings with administration and a conference call with the State Department of Education, here is today's update. We are working on a google form to be sent out so parents can order breakfast and lunch for a week at a time, starting next week. Meals will be picked up at the cafeteria from 10-12 daily. If you have a problem getting to the pick up, we have volunteers that will deliver. All students enrolled are eligible for meals. This form will be out by tomorrow and will need to be completed by noon on Thursday. Next Monday, the elementary and high school office will be open from 9-12 for pick up of medications that might have been left at the school. Please call ahead and it will be ready for you. On Wednesdays, there will be someone in the elementary and high school for phone calls and questions. No entry into the schools but the ability to talk by phone to an administrator to ask questions. The Superintendent's office will be taking all calls from 9-12 Monday through Thursday starting Monday, March 23rd. For the next two weeks, there will be NO academics or activities. Prom will be rescheduled to a time when the CDC permits large group activities. All closings will be re-evaluated by the SDE at the March State School Board Meeting. No one will be in the school buildings except cafeteria staff and business managers for the remainder of the extended spring break. We will not have to make up the days of the extended break. There are so many moving parts of this situation that I encourage you to ask questions in the comments. By utilizing this resource, we can cover most of the unknowns. Daily updates around three each day. There is a special board meeting tomorrow to discuss this ever changing situation and an employee Zoom call tomorrow at 3. Everyone stay home, wash hands and stay up to date with the latest changes at
Coronavirus@health.ok.gov
Prayers welcome and being said for you and your families, Donna Anderson Superintendent Cherokee Public Schools

UPDATE COVID19 #4 The State Board voted to suspend all learning until April 6th for ever school in the State of Oklahoma. Before that time, the situation will be re-evaluated. CPS is meeting with several different groups tomorrow and Wednesday to develop a plan for Child Nutrition and education. Clarification from the SDE will be sought on the wording of "all learning suspended" but CN is clear we can provide grab and go meals. Instructions on how to get meals during the extended Spring Break will be given by the end of the week. Employees need to be monitoring their emails for updates and information. There will be a staff Zoom meeting that can be joined from your phone or laptop on Wednesday, March 18 at 3. During this meeting I will answer questions and give instructions for the coming weeks. This is an unprecedented situation but we will come through this and be stronger and better prepared for any future contagions. Our community rises to challenges and this will be no different. Thank you to everyone who is offering assistance and we feel fortunate to have you all as our community partners. Donna Anderson Superintendent Cherokee Public school

CPS COVID19 Update #3 The State board will meet today at 4PM to discuss closure. This is the agenda. A conference call will be made with all schools tomorrow at 2PM. I look to have a decision at 4PM today. If there is closure, CPS will proceed with our education action plan and will have a path developed to provide breakfast and lunch as a grab and go over the extended Spring Break. It is my hope that a black and white decision is made for unity within public schools. The decision to close has a huge impact on so many communities and the health of our State is too important to leave as school to school decisions. The decisions made are preventative and an effort to decrease community spread. I appreciate all of the prayers, texts and words of encouragement. These decisions are changing hourly and your kindness gives me peace of mind in decisions that must be made. CPS will provide information as it becomes available and is reliable. Thank you, Donna Anderson Superintendent Cherokee Public School.

Elementary Weekly Activities for March 16-20

Weekly Activities for March 16 - 20

Update COVID19 #2 Today's call with the State Department of Education encouraged all schools to come back on March 23rd. As with everything about this situation, that can change depending on community spread. There will be another conference call next week to update schools. If there are further developments CPS will adapt to the situation and report to our community. The President is scheduled to speak today. If there are adjustments required by his announcements we will evaluate our plans and comply with State and National requests. We intend to stay calm and continue on with education the best way possible for the given circumstances. Donna Anderson Superintendent Cherokee Public School

Update on COVDID19 for CPS: At CPS, we are monitoring the coronavirus situation and I will have a video meeting with the State Superintendent today. Depending upon what they tell us, we will make decisions for the near future. The OSSAA has issued a message that all of their activities will be postponed until further notice. A few things to prepare for: All school activities, practices and open gyms are cancelled for Spring Break with the exception of OYE, unless they cancel The possibility of all activities suspended for the rest of the year If the SDE closes schools in our state, we will have a plan for education for your students Administration is working on a guideline for those education plans Decisions will be made during Spring Break for activity trips for the rest of the year and education plans if there are closures. The buildings will be locked starting Saturday for everyone, stay home, wash hands While we do not know the number of people or where they live, there will be testing available so the numbers will increase. Keep to your health procedures and stay home if you are sick. Remember, we are not trying to be alarmists but preventative. What we do today as prevention, promotes less spread of illness for the future. This is a fluid situation with changes happening hourly. Please stay informed and CPS will continue to monitor and assess as needed. Donna Anderson Superintendent Cherokee Public Schools.

Just a reminder: Parent Teacher Conferences are from 3:30 to 7:30 today at the Elementary & JH/HS. The Elementary Book Fair will be open till 7:30. Spring Break is March 13 - 20. Enjoy your break!

The OSSAA has cancelled all activities until further notice. In an effort to be proactive and follow this lead CPS will suspend all practices, games and open gym for Spring Break. Further information will be posted as this situation progresses.

Due to weather the track meet has been canceled for Friday. We will attempt to reschedule at a later date if possible. Thank you, Coach Schanbacher.

All current 6th -11th Cherokee girls are invited to an informative pageant tea party on April 19th at 2:00 pm in the Baker Building. Please wear a Sunday dress and bring a parent or guardian with you to the event.

Reminder: Join us tomorrow March 11th, from 7:45-8:15 am for our Pastries with Parents event! Come enjoy a tasty pastry on us!

Softball Reminder - The JH Softball Game scheduled for this afternoon has been canceled.

CPS has changed the calendar for the 2019-2020 school year. March 27, 2020 & April 3, 2020 will be days out of school. The calendar was changed in an effort to give the school community additional time to allow flu season to pass with as little spread of infection as possible. It is our hope that this measure along with continued districtwide electrostatic disinfection spraying will provide a healthy environment for our students & staff. Responsible prevention is our goal.

oday is the first day of the book fair! We have lots of fun activities planned in the JUNGLE this week! The classroom wishlist boxes are back this spring! Find your teacher's box and purchase books for the classroom library. See Mrs. Cudmore for more information. We will be completing WISHLISTS today like we did in the fall. Student's will come home tonight with a wishlist receipt. Nothing will be purchased!! Tuesday is our GRAND Event! Any GRAND person is invited to come shopping with their student from 5:00-6:30 pm! Wednesday is our Pastries with Parents Event! Come shop with your student and enjoy a tasty pastry on us from 7:45-8:15 am! March 9th-Hours 8:00-6:00 March 10th-Hours 8:00-6:30 March 11th-Hours 7:30-4:00 March 12th-Hours 8:00-4:00 Parent Teacher Conferences 5:00-8:00


Weekly Announcements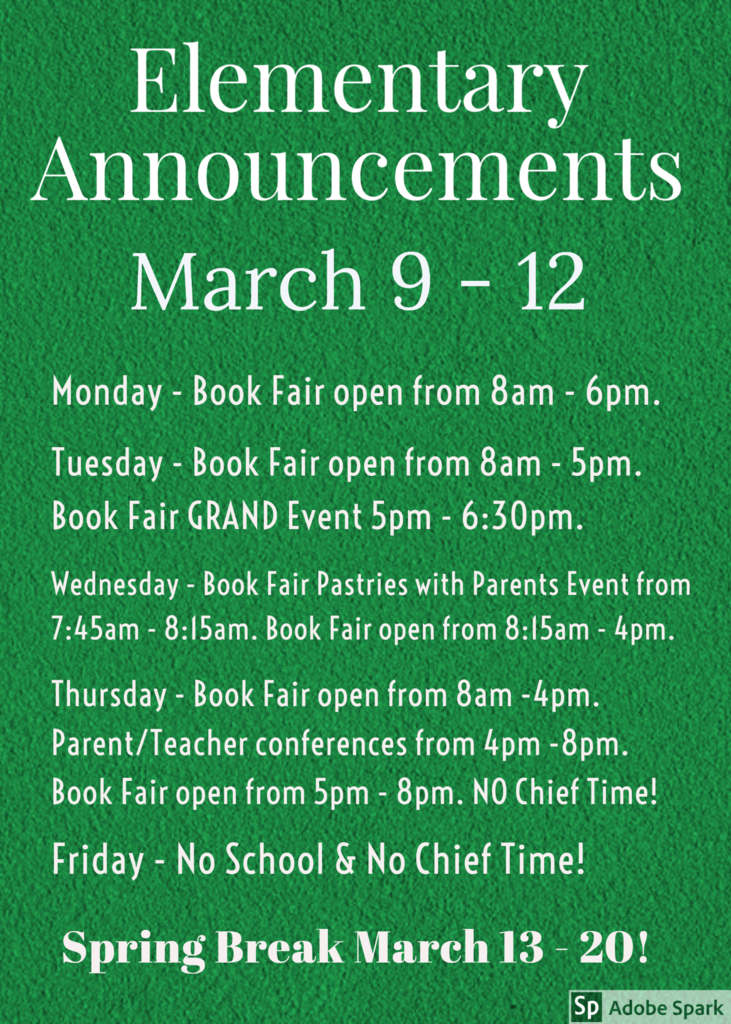 Weekly Announcements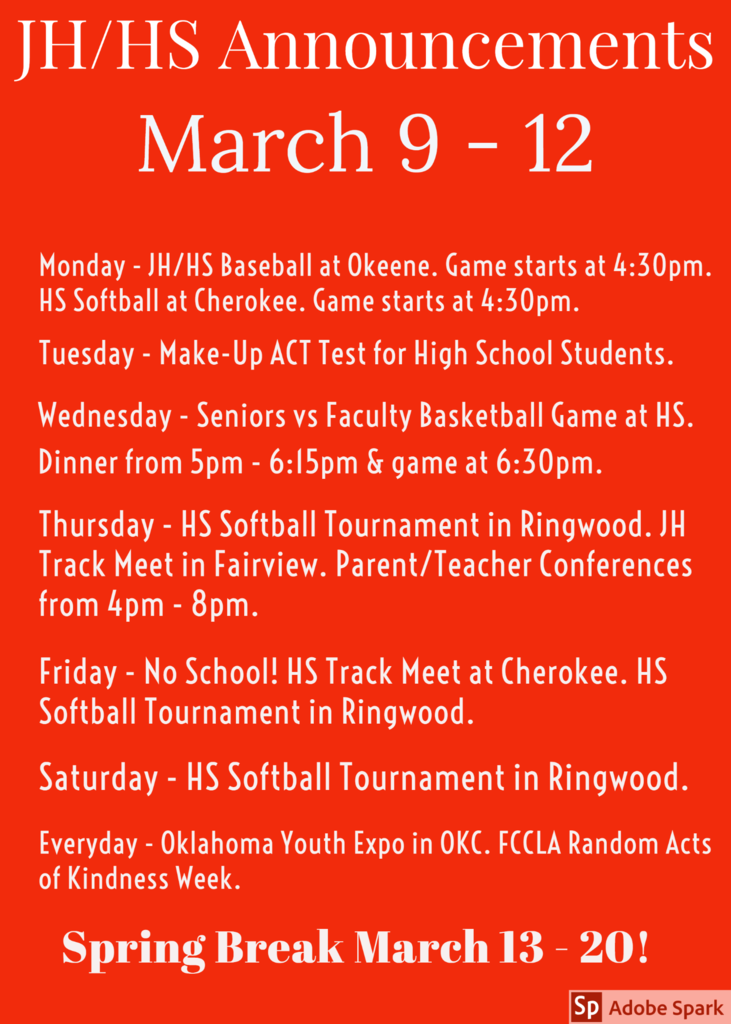 Did you know! Upward Bound provides a Mathematics tutor for Cherokee students at the Cherokee City Library from 3:30 - 5:30 pm on Tuesdays and Thursdays. This service is free to all students.