All current 6th -11th Cherokee girls are invited to an informative pageant tea party on April 19th at 2:00 pm in the Baker Building. Please wear a Sunday dress and bring a parent or guardian with you to the event.

Reminder: Join us tomorrow March 11th, from 7:45-8:15 am for our Pastries with Parents event! Come enjoy a tasty pastry on us!

Softball Reminder - The JH Softball Game scheduled for this afternoon has been canceled.

CPS has changed the calendar for the 2019-2020 school year. March 27, 2020 & April 3, 2020 will be days out of school. The calendar was changed in an effort to give the school community additional time to allow flu season to pass with as little spread of infection as possible. It is our hope that this measure along with continued districtwide electrostatic disinfection spraying will provide a healthy environment for our students & staff. Responsible prevention is our goal.

oday is the first day of the book fair! We have lots of fun activities planned in the JUNGLE this week! The classroom wishlist boxes are back this spring! Find your teacher's box and purchase books for the classroom library. See Mrs. Cudmore for more information. We will be completing WISHLISTS today like we did in the fall. Student's will come home tonight with a wishlist receipt. Nothing will be purchased!! Tuesday is our GRAND Event! Any GRAND person is invited to come shopping with their student from 5:00-6:30 pm! Wednesday is our Pastries with Parents Event! Come shop with your student and enjoy a tasty pastry on us from 7:45-8:15 am! March 9th-Hours 8:00-6:00 March 10th-Hours 8:00-6:30 March 11th-Hours 7:30-4:00 March 12th-Hours 8:00-4:00 Parent Teacher Conferences 5:00-8:00


Weekly Announcements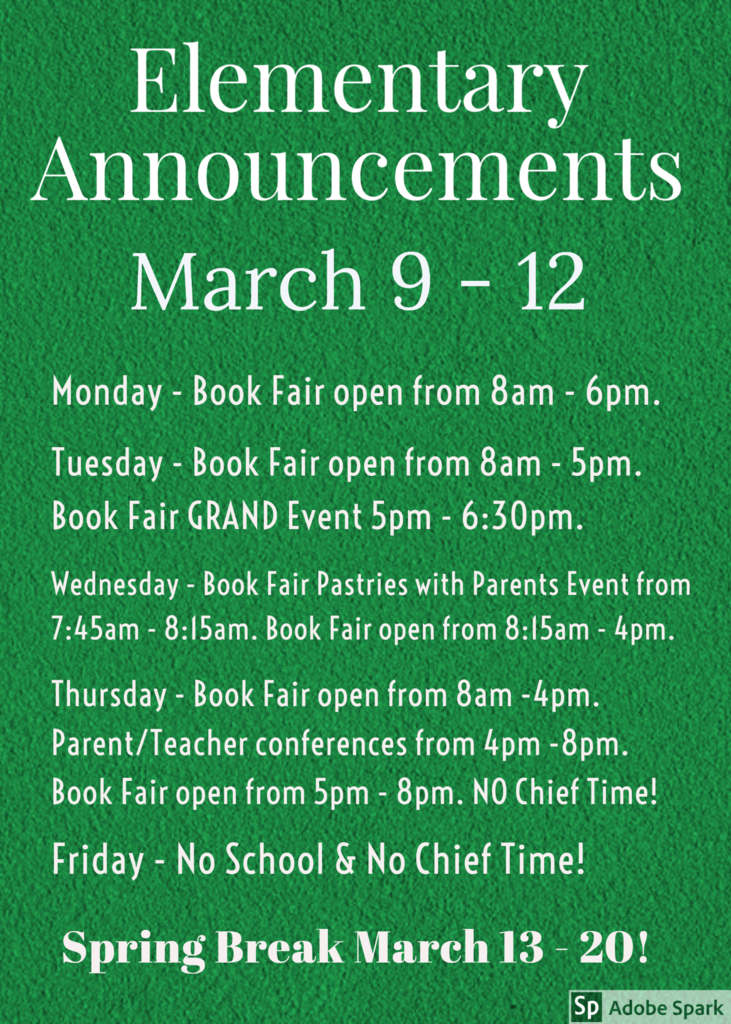 Weekly Announcements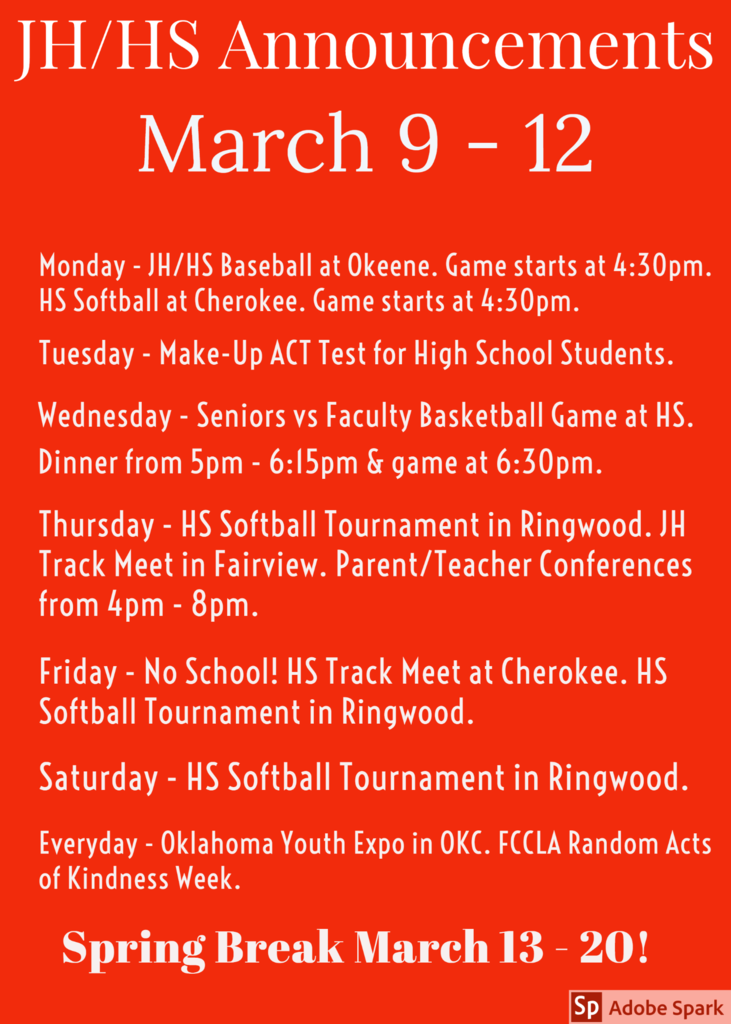 Did you know! Upward Bound provides a Mathematics tutor for Cherokee students at the Cherokee City Library from 3:30 - 5:30 pm on Tuesdays and Thursdays. This service is free to all students.

If you plan to attend NW Career Tech next year, please bring your signed NWCT applications to Mrs. Jordan as soon as possible. Thank you!

Today's Activities: NW District Livestock Show. Reminder: No School tomorrow!

Today's Activities: NW District Livestock Show in Enid.

Mark your calendars!! Cherokee Elementary School Book Fair week starts March 9th! That's only ONE week away!! We have lots of fun events planned for our spring book fair! You can start shopping online starting March 4th-March 17th. Set up your students eWallet today! Simply set up a free account and have funds available for your student to shop the Book Fair. Safe and Secure-it's easy shopping with book fair eWallet. *All unused funds are returned at the end of the book fair* Visit the homepage to shop online, setup your eWallet and view the calendar of events!
https://www.scholastic.com/bf/cherokee2020

Today's Activities: Speech and Debate contest at Hennessey.


Today's Activities: Cheer Tryout Practice at the HS Gym starting at 3:30pm for all levels.

Today's Activities: County Livestock Show at the Fairgrounds.

Today's Activities: County Livestock Show at the Alfalfa County Fairgrounds.

Today's Activities: Local Livestock show at the fairgrounds.

Today's Activities: JH Academic Meet at Vici.