Weekly Activities for April 19 - 24.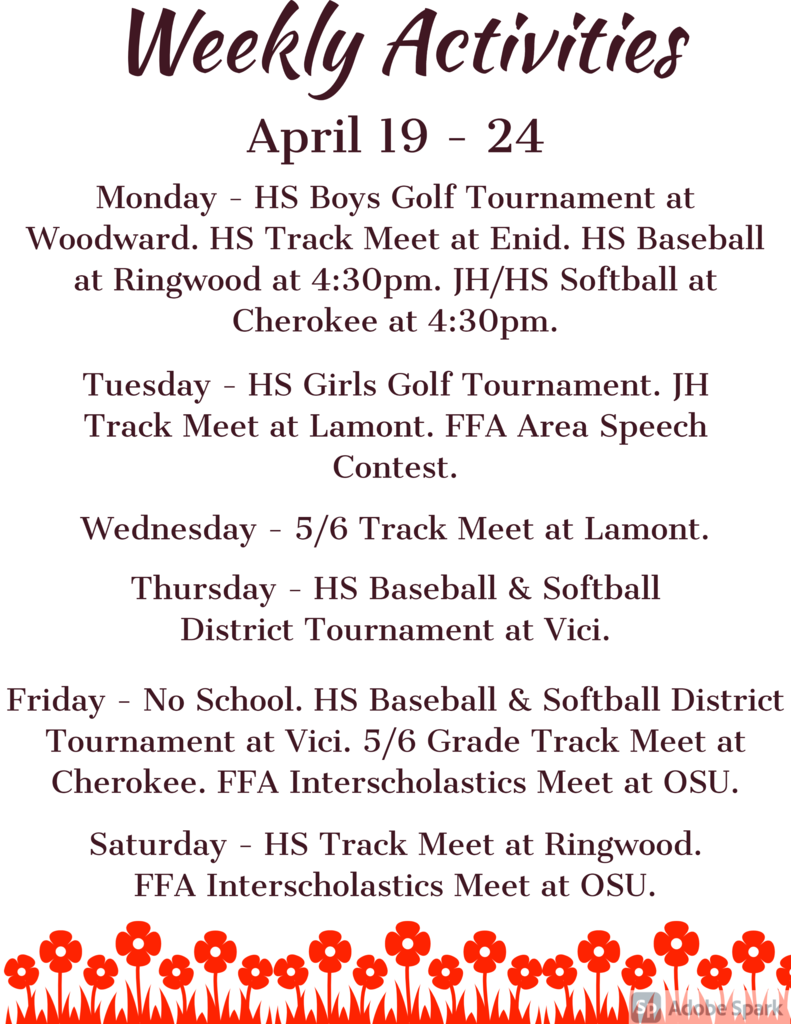 The JH Track bus will leave on Tuesday for Lamont at 8:15am.

Schedule Change: The 5/6 & JH Cherokee Invitational Track Meet has been postponed to April 23.

Attached is the schedule of events for tomorrow's 5/6 & JH Cherokee Invitational Track Meet.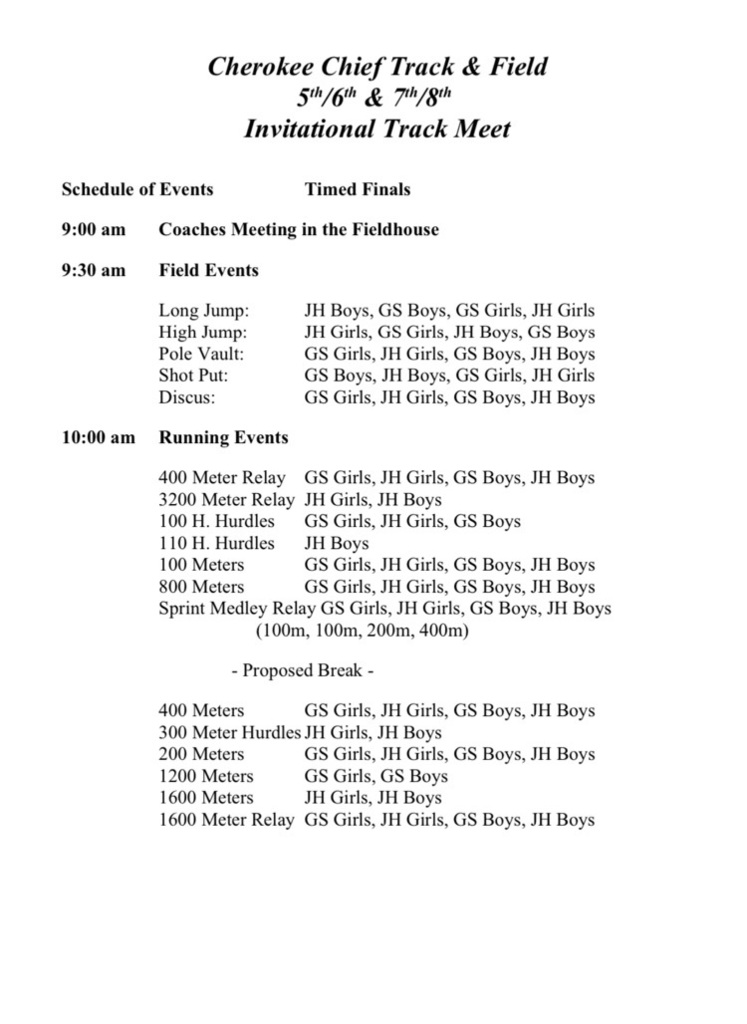 Softball Update - today's softball games have been cancelled.

Just a reminder - Cherokee Boys and Girls Basketball Camp forms are due on May 2. Visit
https://5il.co/r65e
to print a form.

HS Track Update: The HS track team will not attend the meet tomorrow. The HS track meet scheduled for Friday has been moved to Monday.

Softball Schedule Update: The HS Softball Game scheduled for April 20 has been canceled.

HS Baseball Districts will be April 22 & 23 in Vici.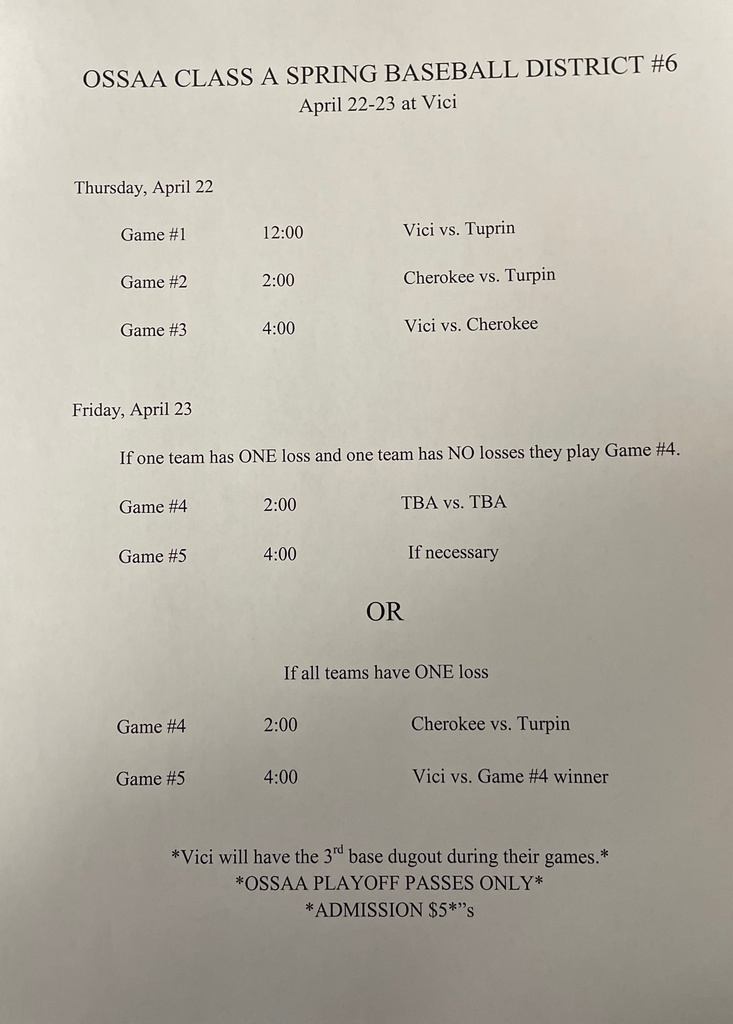 Weekly Activities!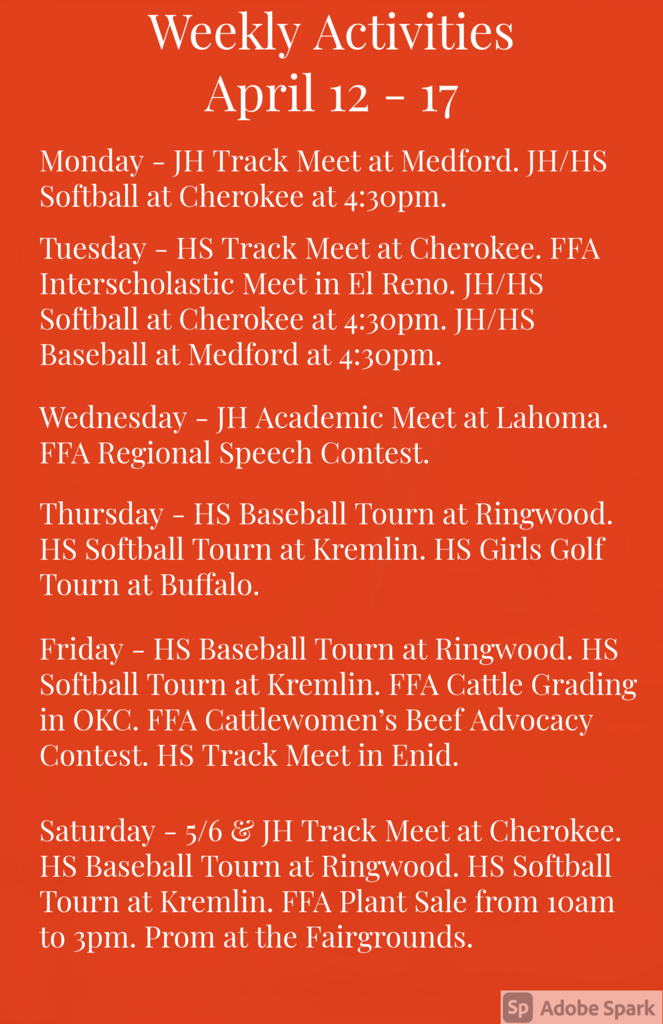 Attached is the schedule of events for the HS Track Meet at Okeene.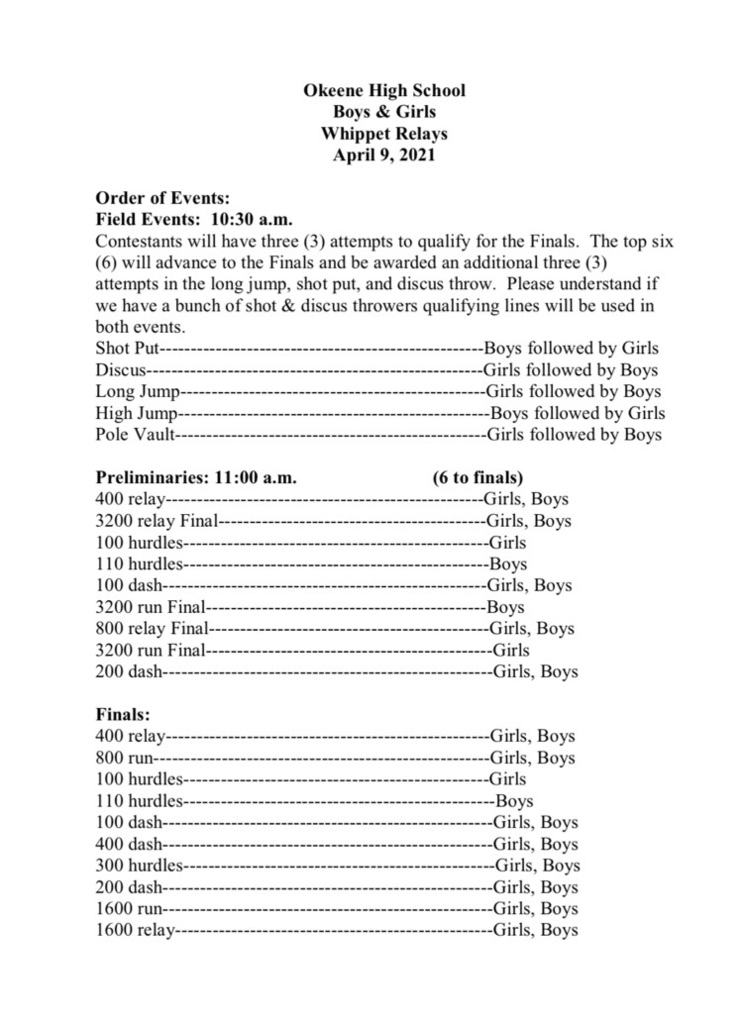 Baseball Update: The JH Baseball team will play Friday at 12:30pm at Cherokee.

PreKindergarten Enrollment will be online this year! Enrollment will open at 6:00am at April 12, 2021. A link will be posted to our website and social media pages.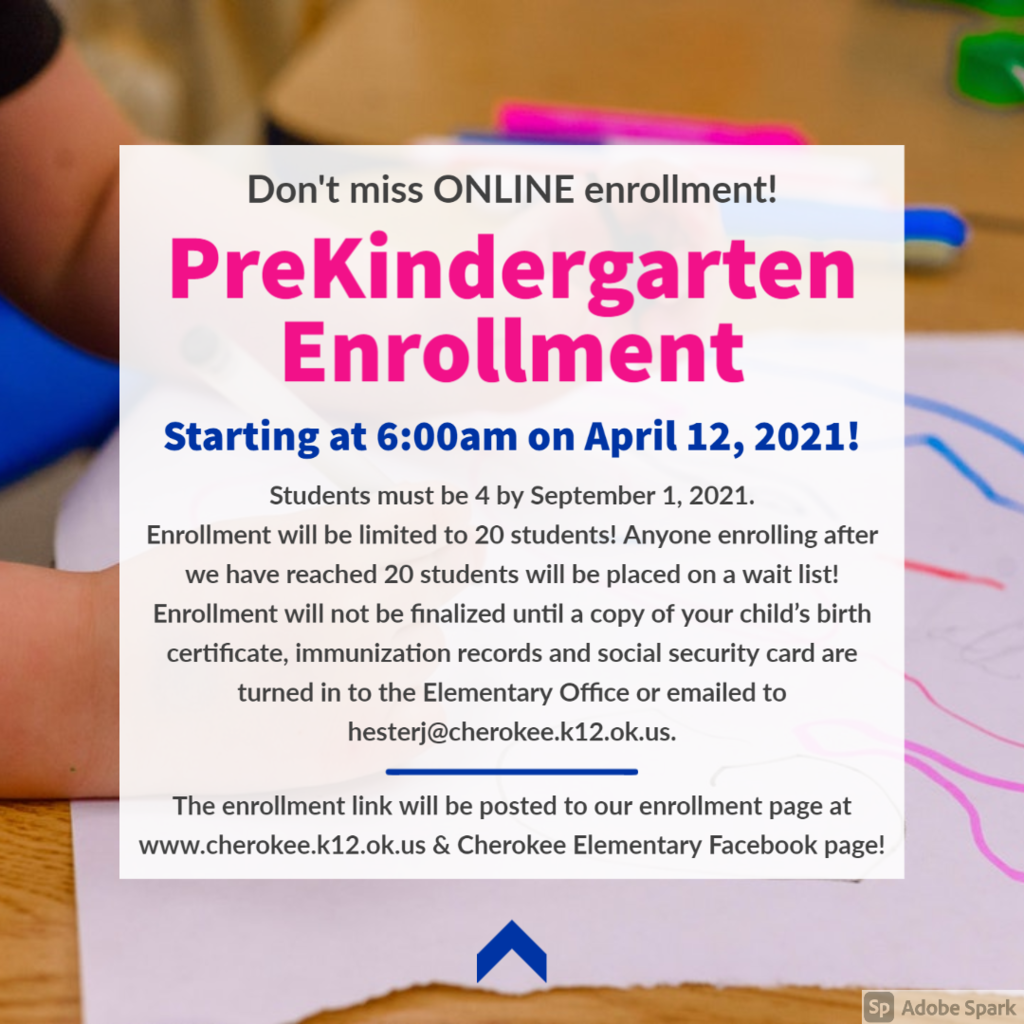 6th Graders- Don't forget about the MASH Camp opportunity! Look at the information on the attachment and make sure to register on the opening of registration, April 15th at 7:00 pm. Only 30 kids will get to attend this year!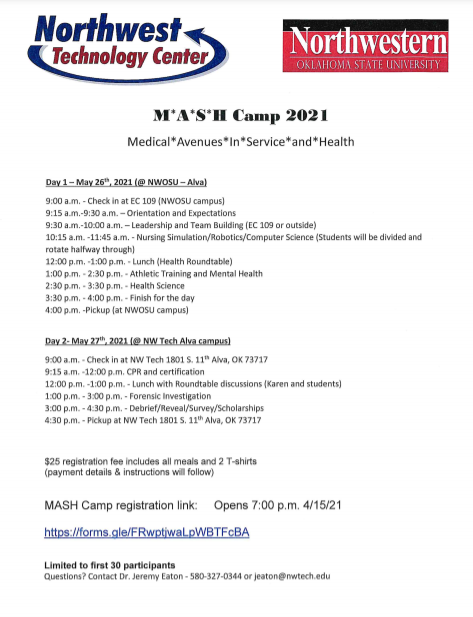 Junior & Senior Girls: please check your school email for an opportunity to attend Girls State 2021. Any Cherokee Junior or Senior Girl may apply & attend the VIRTUAL event for a $50 fee. The deadline to apply/pay $50 is April 9th. The Session Dates are May 31st - June 4 from 3 pm to 6 pm each day.

Schedule Change for Friday's Softball Games!! 12pm: Cherokee vs Hennessey 1:30pm: Hennessey vs Alva 3pm: Cherokee vs Alva Keep in mind game times may be different due to run rules.

Weekly Activities for April 5-9.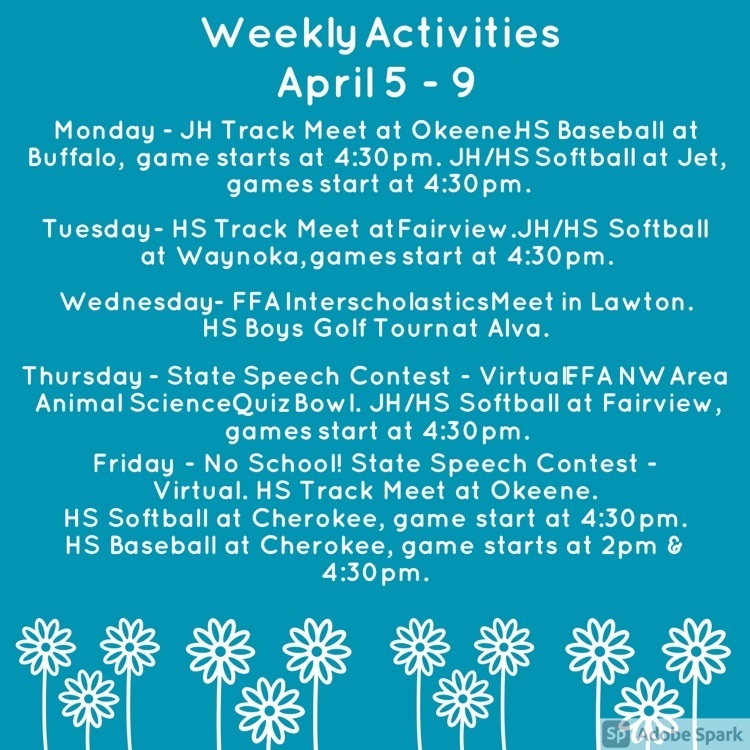 HS Slow Pitch bracket for the Kremlin-Hillsdale tournament April 15-17th