HS Baseball Districts will be April 22 & 23 in Vici.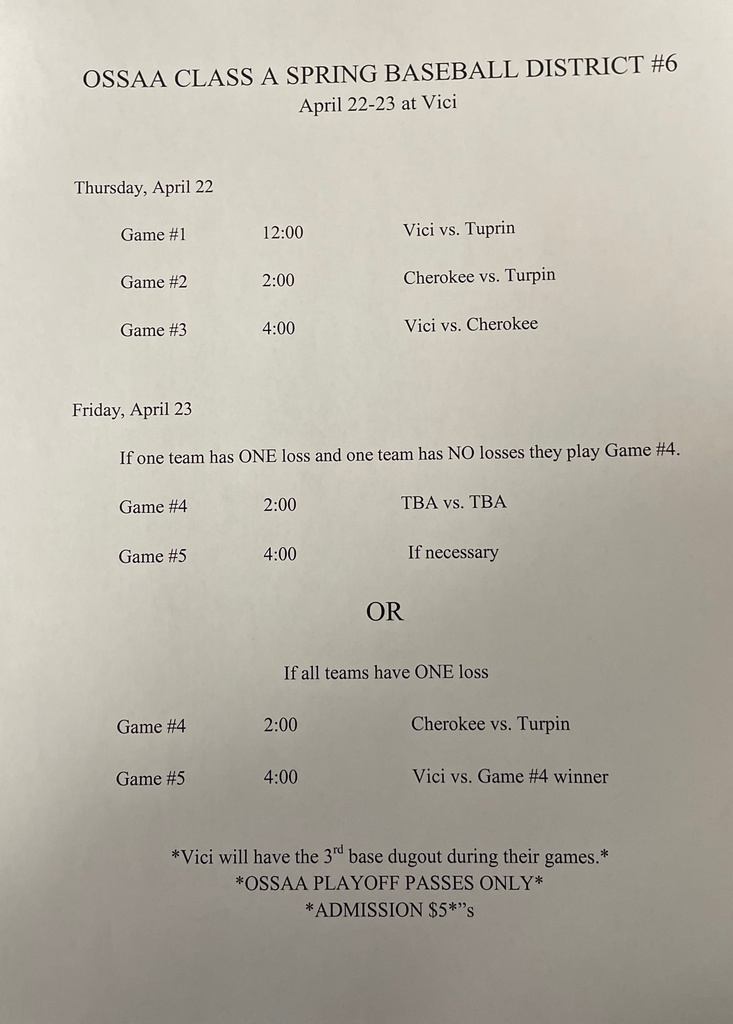 Weekly Activities!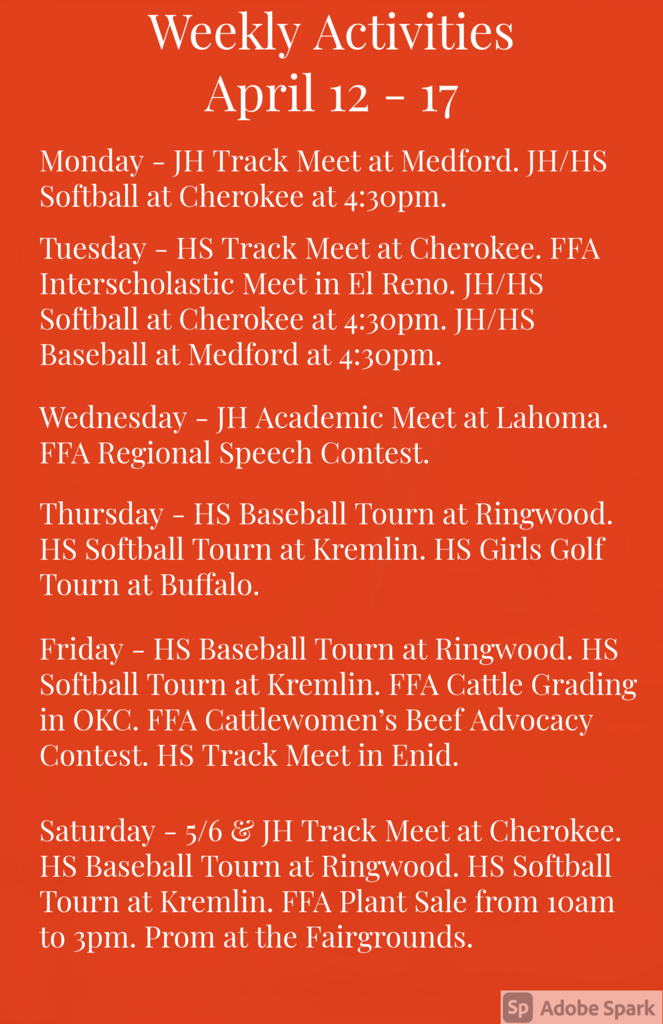 Attached is the schedule of events for the HS Track Meet at Okeene.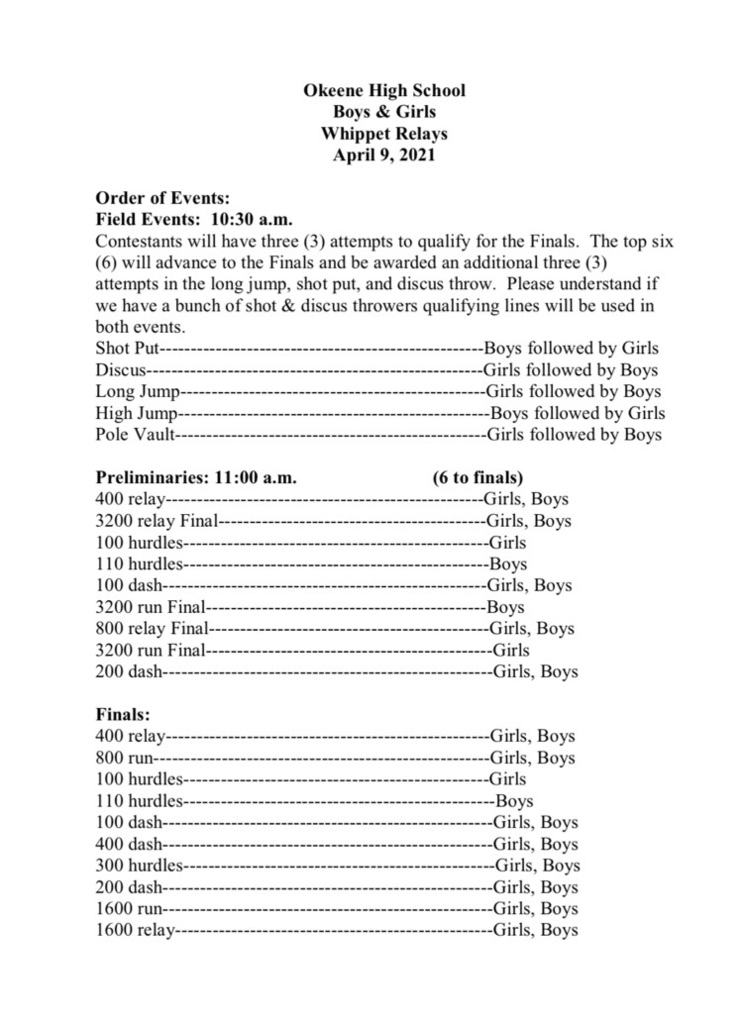 Baseball Update: The JH Baseball team will play Friday at 12:30pm at Cherokee.

PreKindergarten Enrollment will be online this year! Enrollment will open at 6:00am at April 12, 2021. A link will be posted to our website and social media pages.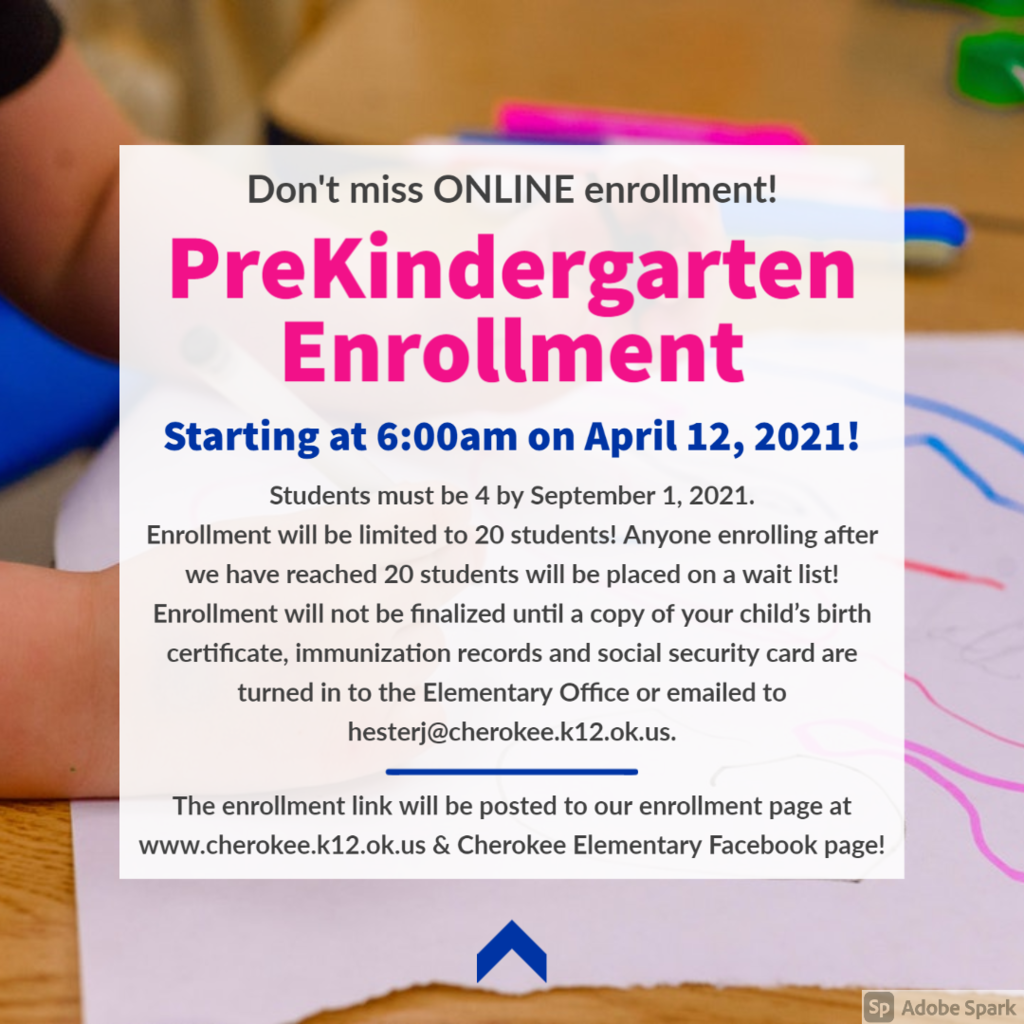 6th Graders- Don't forget about the MASH Camp opportunity! Look at the information on the attachment and make sure to register on the opening of registration, April 15th at 7:00 pm. Only 30 kids will get to attend this year!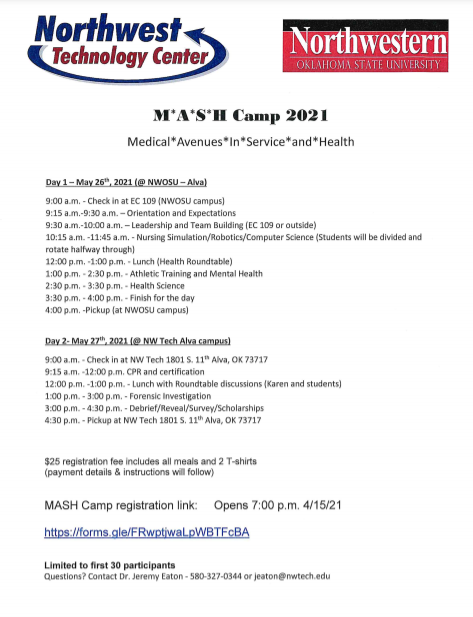 Junior & Senior Girls: please check your school email for an opportunity to attend Girls State 2021. Any Cherokee Junior or Senior Girl may apply & attend the VIRTUAL event for a $50 fee. The deadline to apply/pay $50 is April 9th. The Session Dates are May 31st - June 4 from 3 pm to 6 pm each day.

Schedule Change for Friday's Softball Games!! 12pm: Cherokee vs Hennessey 1:30pm: Hennessey vs Alva 3pm: Cherokee vs Alva Keep in mind game times may be different due to run rules.

Weekly Activities for April 5-9.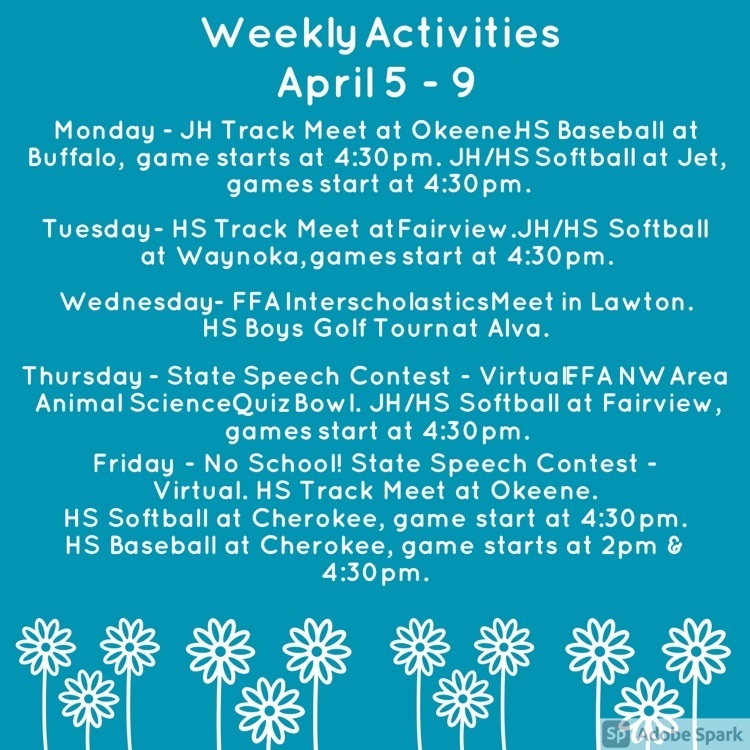 HS Slow Pitch bracket for the Kremlin-Hillsdale tournament April 15-17th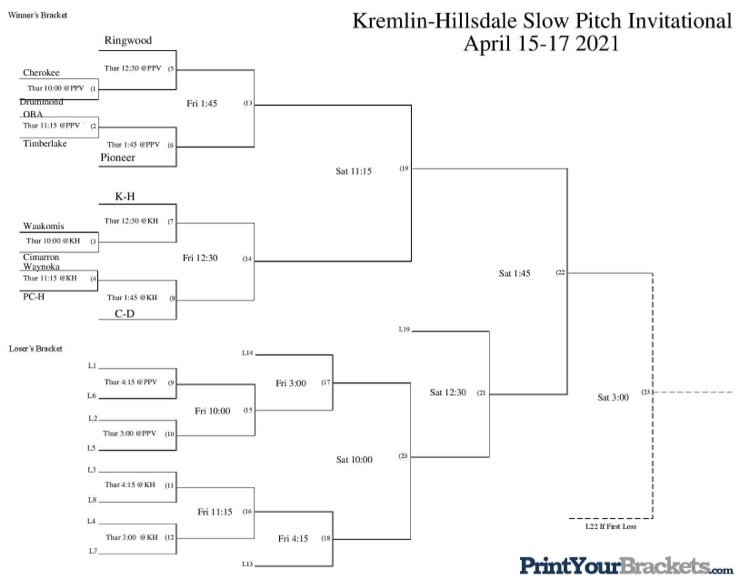 CHS Seniors who plan to attend NWOSU in the Fall of 2021, NWOSU's Freshman Connection will be on Wednesday, April 14th, 2021 for fall enrollment of the incoming Freshman.

Cherokee Sports Boosters are selling spring sports t-shirts. The red track t-shirts would be great for elementary kids participating in the JMR meet in May. The deadline is soon (April 4), so don't miss out. Forms will be sent home today, or you can order online at
https://gogearonline.com/cherokee-spring-sports-t-shirts/
.

Cherokee Little Kids Basketball Camp will be May 17 - 19. Forms will be sent home with students or you can print a form from our website. Forms are due May 2.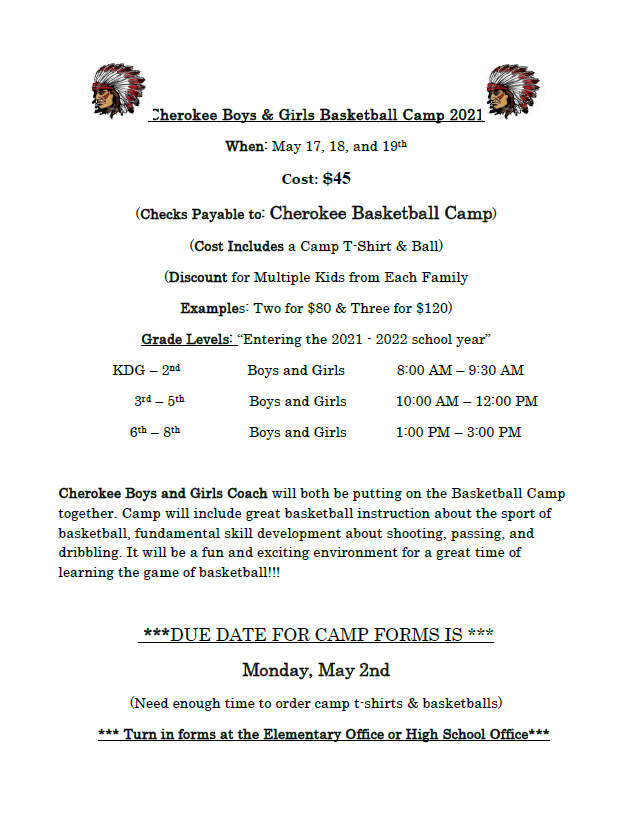 Today's HS Softball game has been canceled.

Schedule Updates: The 5/6 Grade Track Meet scheduled for April 5 has been cancelled. The JH Track Team will not be attending the meet on April 8th.

Attached are the April Breakfast and Lunch Menus.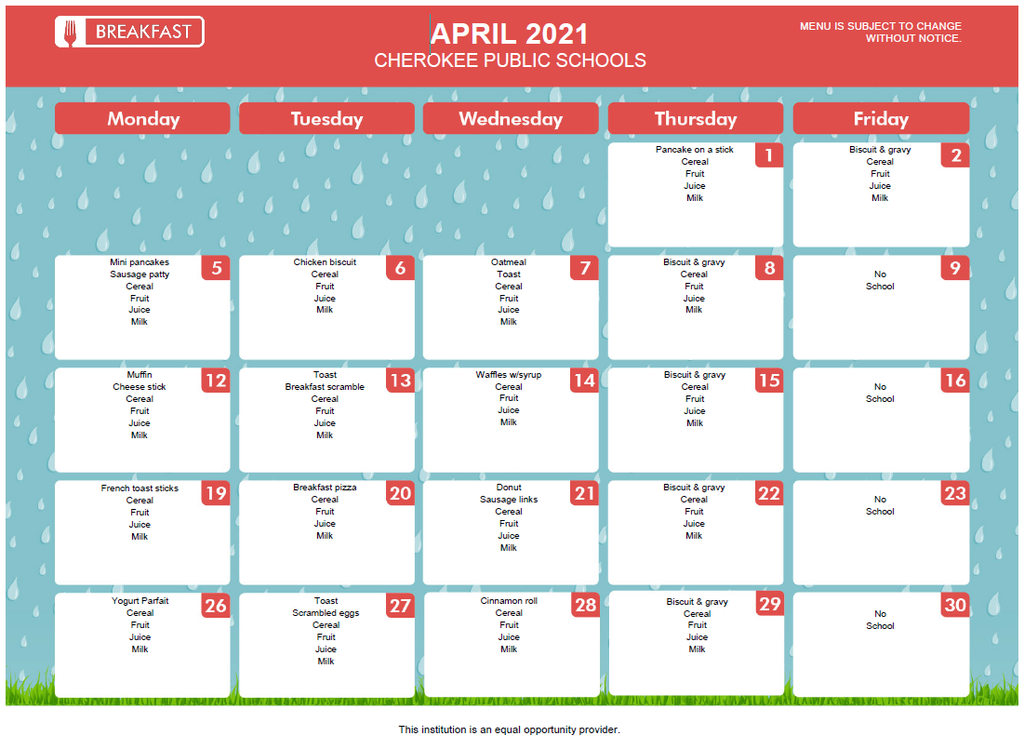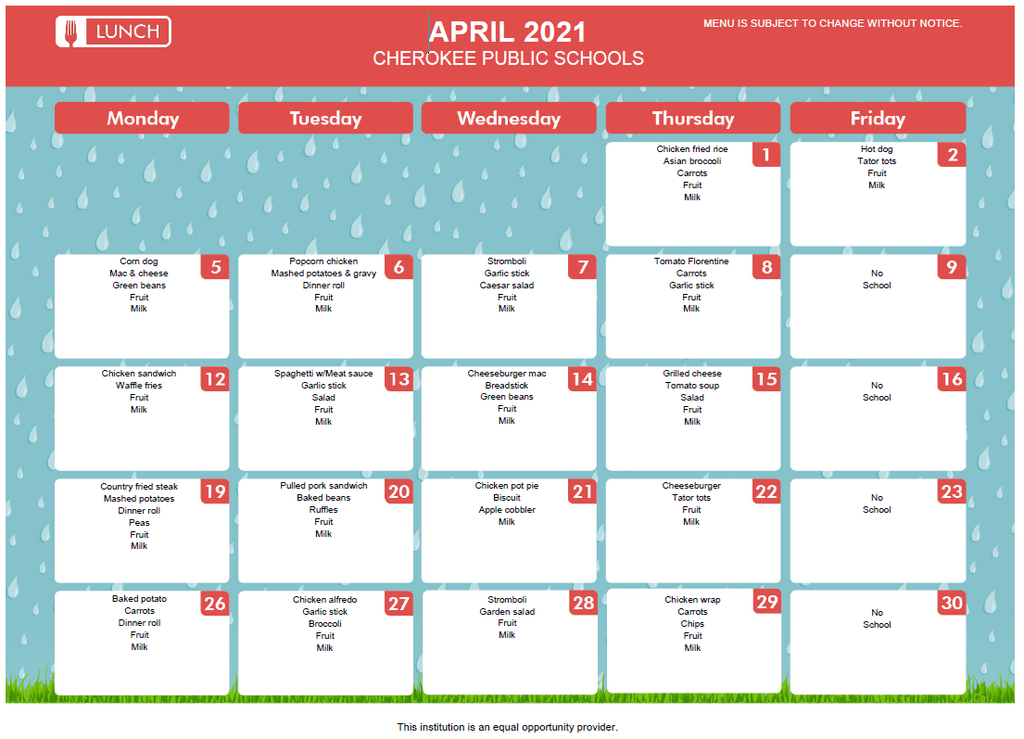 Schedule of events for the Cherokee Strip Track Meet schedule for Tuesday, March 30 at Cherokee.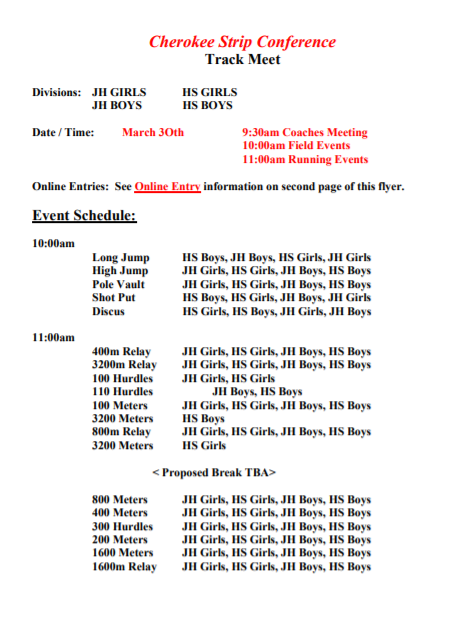 Attached are the weekly activities!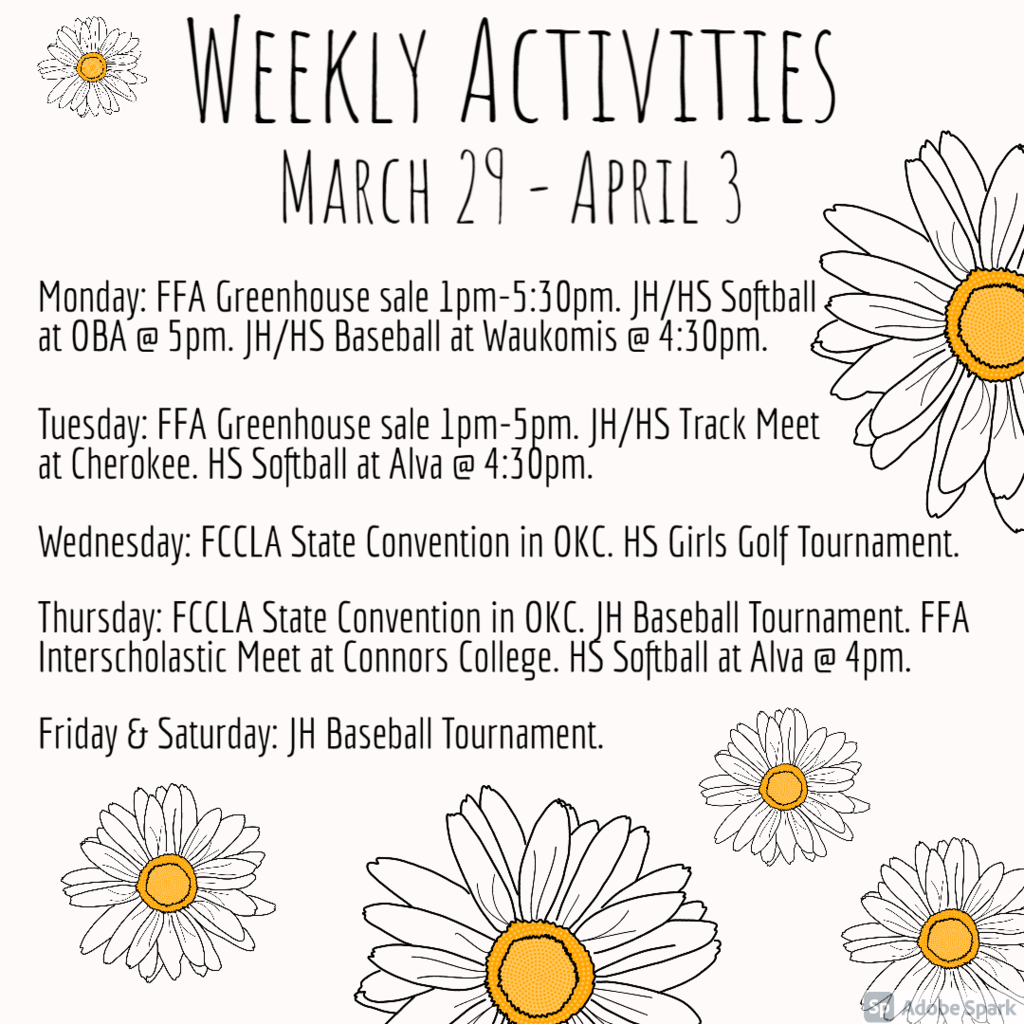 Attached is the bracket for the Timberlake JH Baseball Tournament that will be held on April 1 & 2.